Upcoming Events
View All Events
Subscribe
Featured System
Emergency Call System Installation
Nurse Call Systems Installed Accurately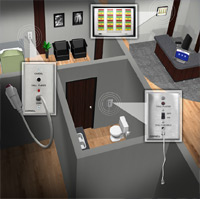 Cornell Communications manufactures innovative nurse call systems for assisted living facilities, skilled care centers, nursing homes and medical clinics.
When you contact us to implement an emergency call system in your healthcare facility, our nurse call system manufacturers will help you decide which system would improve communication efficiency the most. After a system is chosen, we work with construction contractors to ensure the system is installed correctly and functions properly.
Nurse Call System Installation Services
Once you've selected the best emergency communication system for your medical facility and customized it for your needs with our nurse call system design services, our installation specialists make sure every component of your emergency communication system is installed and functioning properly. Whether your hospital requires hundreds of nurse call buttons installed throughout the building or your small healthcare clinic needs updated reporting software, the emergency communication system distributors at Cornell Communications provide quality customer service, long lasting components, and expert installation to ensure the safety of your patients.
Types of Nurse Call Systems
Our variety of high quality call systems are designed for optimum patient safety. These top-of-the-line emergency call systems improve caregiver response times to meet patients' needs more efficiently:
Our professional emergency communication system specialists will answer any questions you have as you choose which nurse call system is the right fit for your assisted living facility or medical clinic. Once you have decided, our construction contractors will install the call system.
Nurse Call System Installation Guide and Instruction Manual
Download the installation guides, wiring diagrams, instruction manuals, and other specifications for your new system. If you're installing reporting software yourself or learning to use your wireless paging system, our guides and manuals are a convenient online resource. Click on your emergency communication system above to find the correct nurse call system installation guide and instruction manual.
Nurse Call System Wiring Diagrams
Contact Cornell emergency communication specialists directly for help with installation, or see the electrical wiring diagrams for your nurse call system:
Components to Install
Depending on which emergency call system you choose for your medical care center, our contractors will install the necessary components for your system, such as:
Master Station or Main Control Panel
Remote Control Panels
Bathroom Stations
Speaker Stations
Control Modules
Different call systems require different components, so your nurse call system may not include all of the hardware listed. Our knowledgeable construction contractors will install the system accurately and confirm that all components are functioning properly. With your Cornell Communications call system activated, you'll see an improvement in response time and an increase in patient satisfaction.
Our emergency call systems come with installation guidelines as well, so you can add on or replace existing parts. If you already have our call system installed, but require more parts, we offer a wide variety of nurse call system replacement parts for sale.
Contact nurse call system manufacturers at Cornell Communications to have our innovative systems installed in your medical facility.