Get the system you need.
Audio and visual nurse call systems for assisted living facilities, nursing homes, hospitals and outpatient medical clinics.
Traditional lights, buttons and pull cords are smartphone/WiFi integrated. Let us know what you're trying to do and we'll take care of you.
Order by Noon CST for possible same day shipping*
*See Terms & Conditions
Need Some Assistance?
System Quote
System Design/Installation

1-800-558-8957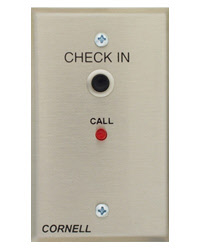 Check in Station, Push Button, Single-Gang
Online Price:

$76.50

/each

$90.00
Check-In Station with Momentary Push Button and Call Placed Light
This visual emergency station with momentary push button and call placed light is the perfect solution for all your light notification system needs. At the press of a button, the check-in station alerts caregivers assistance is needed. Fully equipped with a call-placed light, residents can rest confidently knowing help is on its way. Nurse call systems from Cornell Communications are ideal in facilities like nursing homes, assisted living centers, and hospices. This wireless nurse call station is a reliable first line of communication for your resident's bedside needs.
Description:
E-107 single-gang Check In Stations are provided when a care center requires that each resident confirms that they are ok: by activating this station at a designated time each day. At the end of the designated time a report or message can be generated identifying those residents that did not activate the station. The Check In Station features satin finish stainless steel face plates with silk-screened designations. They may be flush mounted on standard outlet boxes with single-gang rings, or surface mounted on Wire mold 5748 or equal with a depth requirement of 1 ¾".
Operation:
Used with the A-4000 series Annunciator panel as a "check-in" room station for senior housing. Pushing the "check in" nurse call button activates a light at the Annunciator.
Mounting:
The satin finish stainless steel faceplate with silk-screened designations may be flush mounted on a standard outlet box with single-gang plaster ring, or surface mounted on a Wire mold 5748 or equivalent.
Engineering Specifications:
The contractor shall furnish and install the Cornell E-107 check-in stations as indicated on the plans. Faceplates shall be satin-finish stainless steel with silk-screened designations. Call indicator shall be red LED and be replaceable from rear of unit. Incandescent lamps are not acceptable. Stations shall be mounted on standard outlet boxes with single-gang rings or Wire mold 5748 or equivalent.
Power Requirements: 24VDC
Operating Environment: 50-120°F Indoor Non-condensing
Physical Faceplate Dimensions: 4 ½ "H x 2 ¾ "W (1 Gang)
Mounting: Single-Gang back box with 1¾" minimum depth
Wiring: #22 AWG Minimum
Improve your emergency communication technology today and view our other state-of-the-art nurse call replacement parts.
Get Help with System Design/Installation
Download Brochure & Wiring Diagram