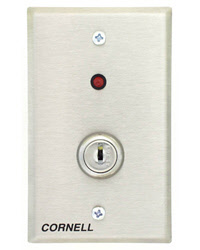 A-1801 Time Delay Remote Control
Call for pricing
(1-800-558-8957)
Description:
Each station features a red LED to indicate armed status when lit. Single-gang stainless steel faceplate suitable for flush or surface mounting.
Operation:
A-1801 Remote Zone Controls with Time Delay provide authorized personnel with alarm-free access to individual zones in the Series A-1000 Door Monitor System. Disarming is accomplished via key; the zone automatically resets to armed status after a preset time delay.
Options:
Tone option available on two gang plate.
Mounting:
The satin finish stainless steel faceplate with silk-screened designations may be flush mounted on a standard outlet box with single-gang plaster ring, or surface mounted on a Wiremold 5748 or equivalent.
Engineering Specifications:
The contractor shall install CORNELL A-1801 Zone Control Stations with Time Delay as indicated on the plans for use with the Series A-1000 Door Monitor System. Each station shall provide alarm-free access to authorized individuals using a key for temporary control disarming. Automatic reset shall follow a preset time delay. Each single-gang stainless steel station suitable for (flush) (surface) mounting shall feature a key switch for disarming and a red LED to indicate armed status when lit. Power shall be supplied via the Series A-1000 master panel at 12 volts DC, regulated. Current is 17mA when zone is armed.
Technical Information:
Power Requirements: 12VDC
Operating Environment: 50-120°F Indoor Non-condensing
Physical Faceplate Dimensions: 4 ½ "H x 2 ¾ "W (1 Gang)
Mounting: Single-Gang back box with 1¾" minimum depth
Wiring: Terminations are Pigtailed

Get Help with System Design/Installation
Read More
Get the system you need.
Audio and visual nurse call systems for assisted living facilities, nursing homes, hospitals and outpatient medical clinics.
Order by Noon CST for same day shipping.
Traditional lights, buttons and pull cords or smartphone/WiFi integrated. Let us know what you're trying to do and we'll take care of you.
System Quote Get Help with System Design/Installation

1-800-558-8957