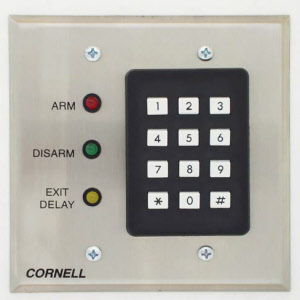 Keypad Station
Product ID:
A-1806-A-1808
Product SKU:
A-1806-A-1808
Description:
Red LED -system armed; Green LED - system unarmed; Yellow LED - exit delay mode. Two gang satin stainless steel plate. Fits standard 2-gang electrical box.
Operation:
Model A-1806D (Arm, Disarm & Exit Delay) Enter the 1 to 6-digit access code. The yellow LED will flash 3 times. Press the * key to disarm the zone, the # key to arm the zone, or the 0 key to initiate time delay.
Model A-1808D (Exit Delay only) Enter the 1 to 6 digit access code and the 0 key to initiate the delay.
Optional:
Tone option available on 3 gang plate.
Mounting:
The satin finish stainless steel faceplate with silk-screened designations may be flush mounted on a standard outlet box with dual-gang plaster ring.
Engineering Specifications:
The contractor shall furnish and install a CORNELL remote zone control keypad. The faceplate shall be a standard two-gang stainless steel plate. The keypad shall be micro-controller based. The micro-controller shall have built-in watchdog timer. LED indicators (red, green, yellow) shall be utilized for long life; incandescent lamps are not acceptable. Unit shall be user programmable entirely from the keypad. Unit shall accept any 1-6 digit access code. Programming shall be preserved during power failure. Unit shall be operated on 12 VDC. Power consumption shall be less than 20mA.
Technical Information:
Power Requirements: 12VDC
Operating Environment: 50-120°F Indoor Non-condensing
Mounting: Surface, Flush, or Desktop
Wiring: #22 AWG Minimum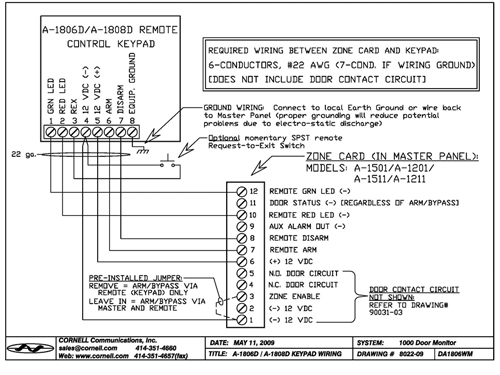 Get Help with System Design/Installation
Read More
Get the system you need.
Audio and visual nurse call systems for assisted living facilities, nursing homes, hospitals and outpatient medical clinics.
Order by Noon CST for same day shipping.
Traditional lights, buttons and pull cords or smartphone/WiFi integrated. Let us know what you're trying to do and we'll take care of you.
System Quote Get Help with System Design/Installation

1-800-558-8957