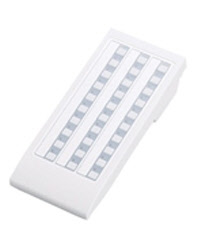 Add 30, Nurse Call/Central Control
Product ID:
A-7030ADD-NC-730
Product SKU:
A-7030ADD-NC-730
Call for pricing
(1-800-558-8957)
Description:
The A-7030ADD 30-Station Add-on Selector expands the system to its maximum capacity of 80 stations. With a simple connection to the A-7050, the 80-call master station remains streamline and compact in size.
The NC-730 Expansion Trunk Card provides the additional call signaling and control functions for the add-on selector, and is installed inside the Central Control Unit.
Operation:
A call from stations 51-80 will annunciate on the add-on selector. Call answering is the same as any call on the master station. Routine calls can be cancelled at the master station, including the add-on selector, and any urgent calls or bedside cord-out calls must be reset at the calling location.
Mounting:
Unit shall be mount to Nurse Call Console or Central Control Unit.
Engineering Specifications:
Add-on selector for the Nurse Call Console shall be Cornell model A-7030ADD, constructed of high-impact ABS fire-retardant plastic, with 30 station selectors, LEDs, and directory.
Channel selectors and call LEDs shall be displayed on console in vertical rows of 10 stations. Membrane-style control panel shall be constructed of a mar-resistant and moisture-resistant material over tactile select switches. Selector points shall be slightly raised for easy tactile activation.
Tones from calls received on add-on selector shall be heard from master station, indicating a routine or bathroom call. A third alert tone shall indicate cord out status
When the add-on selector is included, the NC-730 Expansion Trunk Card, available separately, shall be installed in the NC-780 Central Control Unit.
Connection to the system shall be via multi-pin connectors plugged into A-7050 Nurse Call Console, and a mounting bracket securing the units together.
Physical size of the 30-call add-on selector shall not exceed 2-5/16" x 3-9/16" x 8-1/4".
Equipment shall be UL 1069 listed, and system components shall be provided by a manufacturer having ISO 9001 certification for quality standards.
Technical Information:
Power source: Provided by Nurse Call Console
Capacity: 30 stations
Control Circuitry: NC-730, installed in NC-780
Wiring: Multi-pin connector plugs into A-7050
Material: High impact ABS fire-retardant plastic
Color: White
Dimensions (H x W x D): 2-5/16" x 3-9/16" x 8-1/4", A-7050 + A-7030ADD: 3-1/4" x 14-9/16" x 8-1/4"
Certification: UL 1069 Listed, C-UL Canadian Standard C22.2
Get Help with System Design/Installation
Read More
Get exactly the system you want.
Audio and visual nurse call systems for assisted living facilities, nursing homes, hospitals and outpatient medical clinics.
Traditional lights, buttons and pull cords or smartphone/WiFi integrated. Let us know what you're trying to do and we'll take care of you.
System Quote Get Help with System Design/Installation

1-800-558-8957