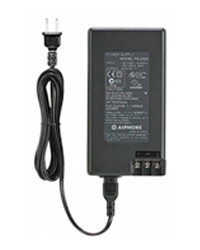 Power Supply - 24 Volt, 2 AMP
Call for pricing
(1-800-558-8957)
Description:
Power supply to be used with Cornell's Aiphone Audio Nurse Call system.
Rated Output:
2 amp continuous supply current at continuous supply current at 24 VDC.
Power Consumption:
60W/100-125VA
Power Source:
AC 100V-240V, 50/60Hz
Circuit Protection:
Short circuit and thermal overload protection.
Operation:
Provides 2 amp continuous supply current at 24 VDC.
Mounting:
Surface Wall mount utilizing supplied mounting bracket.
Engineering Specifications:
The contractor shall furnish and install a CORNELL P-5242 Power Supply for use with the CORNELL Series System.
Technical Information:
Operating Environment: 32-104°F Indoor Non-condensing
Physical Enclosure Dimensions: 16" H x 3.6" W x 2" D
Mounting: Surface mounted hanging bracket.
Cord Length: min 6', max 6'7"
Wiring: #18 AWG Minimum
Get Help with System Design/Installation
Read More
Get exactly the system you want.
Audio and visual nurse call systems for assisted living facilities, nursing homes, hospitals and outpatient medical clinics.
Traditional lights, buttons and pull cords or smartphone/WiFi integrated. Let us know what you're trying to do and we'll take care of you.
System Quote Get Help with System Design/Installation

1-800-558-8957