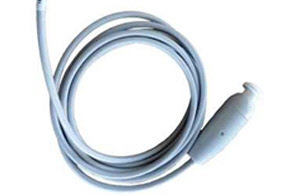 Call for pricing
(1-800-558-8957)
Description:
A shockproof, plastic housing holds the cord's latching push button operator, connected to a vinyl-covered cord 12' long. The right-angle plug is molded to the cord for long life.
Maintenance:
The entire assembly will withstand sterilizing and routine washing.
Warnings:
The call cord's pendant is not intended for use in oxygen atmospheres.
Operation:
The latching contact initiates a signal to the associated Nurse Call Console. Call can only be answered in patients room by unlatching the button.
Mounting:
The Call Cord plugs into Cornell Bedside Station using jack provided by station.
Engineering Specifications:
The contractor shall furnish and install CORNELL Call Cords for use with the CORNELL Audio Nurse Call System. The polyvinyl cables shall be 12' long and be attached to the molded plastic housing enclosing momentary contact push buttons. The entire apparatus shall be shockproof, and must withstand normal washing and sterilization. Right angle phone plugs and bedding clips shall be included. The call cord pendant is not intended for use in oxygen atmospheres.
Technical Information:
Power Requirements: Provided by Bedside Station
Operating Environment: 50-120°F Indoor Non-condensing
Physical length: 12'
Mounting: Plugs into bedside station
Get Help with System Design/Installation
Read More
Get exactly the system you want.
Audio and visual nurse call systems for assisted living facilities, nursing homes, hospitals and outpatient medical clinics.
Traditional lights, buttons and pull cords or smartphone/WiFi integrated. Let us know what you're trying to do and we'll take care of you.
System Quote Get Help with System Design/Installation

1-800-558-8957