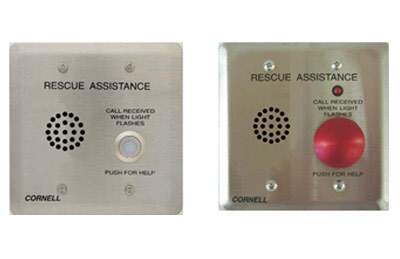 Call Stations - Standard and Weather Resistant Options
Product ID:
4201B/V, 4201B/VM, 4202
Product SKU:
4201B/V, 4201B/VM, 4202
Call for pricing
(1-800-558-8957)
Description:
The Cornell 4200 series call stations work with Cornell's 4200 Rescue Assistance system to initiate a call to the master panel when the button is pressed, opening up a voice communication from master panel to station.
Operation:
The call station has either an LED illuminated switch or a heavy duty stainless steel mushroom switch, that when pressed, initiates a call to the master panel and illuminates the LED on the call station.
Station Options:
The 4201B/V is the basic station with an LED light incased in the switch.
The 4201B/VM provides an easier to use and see, heavy-duty mushroom switch with an LED indicator located above the switch.
The 4202 is the weather-resistant station for outdoor applications, provided with a mushroom switch.
Vandal resistant screws are available as an additional option for all three stations.
Mushroom Switch Call Stations provides a momentary contact that can be used to activate external devices, such as a camera, strobe, or tone device
Mounting:
The satin finish stainless heavy duty steel faceplate with silk-screened designations is to be flush mounted on a standard outlet box with a dual-gang plaster ring. Field wiring is provided by a pigtail connector.
Engineering Specifications:
The CORNELL Call Station, Model 4201B/V, Model 4201B/VM, or Model 4202, shall consist of one momentary switch with an LED, and one audible alarm with a sound level minimum of 70db at 30cm. The station shall be wall mounted on a dual-gang stainless steel plate that is vandal resistant.
Technical Information:
Power Requirements: 24VDC
Operating Environment:

50°-120°F Indoor Non-condensing for standard station
-22°-158°F for weatherproof station

Physical Faceplate Dimensions: 4 ½ "H x 4 ½ "W (Standard 2 Gang)
Mounting: Dual-Gang back box with 1¾" minimum depth
Wiring: #22 AWG Minimum, #16 AWG Maximum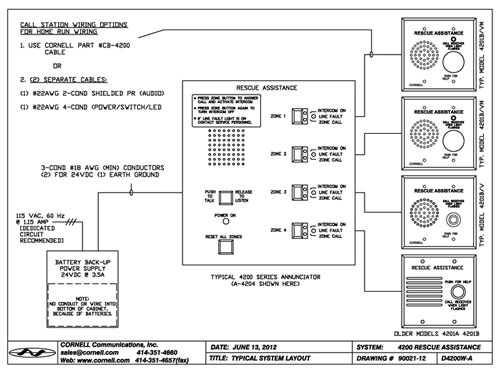 Get Help with System Design/Installation
Read More
Get exactly the system you want.
Audio and visual nurse call systems for assisted living facilities, nursing homes, hospitals and outpatient medical clinics.
Traditional lights, buttons and pull cords or smartphone/WiFi integrated. Let us know what you're trying to do and we'll take care of you.
System Quote Get Help with System Design/Installation

1-800-558-8957