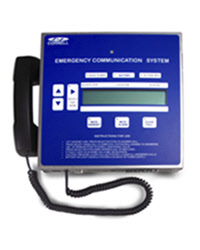 Main 4800 Series Control Panels
Area of Rescue and Area of Refuge Control Panels
Description:
The 4800 Digital Area of Refuge Communication System is designed to provide fully supervised, two-way voice communication, between each call station and up to 5 Control Panels. An internal modem, connected to an Analog "POTS" dedicated telephone line, provides an automated-timed dial-out capability to an alternate monitoring location. A single Control Panel can support 1-8 call stations. Utilizes Cobranet® Digital Audio Technology for voice communication to call stations.
Operation:
When call is initiated at the Area of Refuge Call Station, this signals the alarm to display at the Main and Remote Control Panels. Sound will initiate as well as a detailed description of where the call is coming from on the Control Panel screen.
Modem Operation:
The 4800 Digital Emergency Communication System incorporates a programmable automatic dial feature to connect to an analog telephone line. In the event that an incoming call is not answered, at any of the Control Panels in a preset amount of time, the 4800 system will dial a pre-programmed phone number to directly connect the Call Station to a monitoring location.
Mounting:
The flush mount enclosure assembly consists of a separate back box and a locking hinged Frame/Door assembly. The Back Box chassis shall be mounted with the "Top of Box Arrow" pointing up, and approximately ¨û-¼" below the finished wall surface. The reversible Frame/Door assembly can be adjusted up to approximately 1" away from the face of the chassis surface.
Engineering Specifications:
The contractor shall furnish and install the CORNELL A-4800M with optional A-4800R Panels as indicated on the plans. Panels shall be programmed to building specifications. Panels shall be mounted in CORNELL provided enclosures.
Technical Information:
Power Requirements: 24VDC
Operating Environment: 50-120°F Indoor Non-condensing
Physical Dimensions: Door: 20" W, 20"H, Enclosure Depth 3¼"
Mounting: Follow instructions provided in installation manual
Wiring: Cat5e Ethernet cabling for Control Panel, Switch and Call Station Connections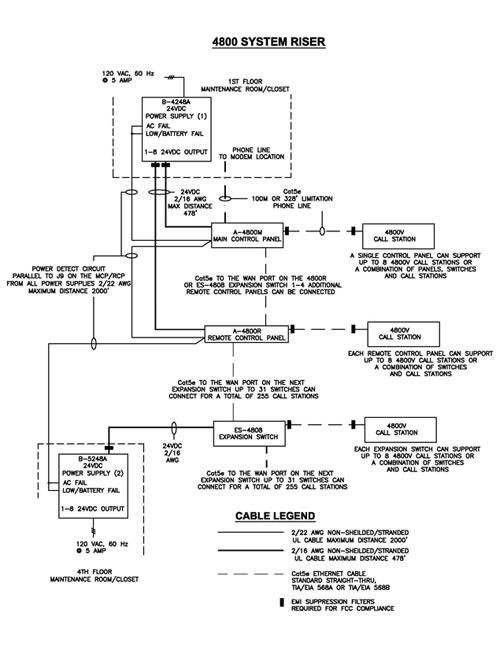 Get Help with System Design/Installation
Read More
Get the system you need.
Audio and visual nurse call systems for assisted living facilities, nursing homes, hospitals and outpatient medical clinics.
Order by Noon CST for same day shipping.
Traditional lights, buttons and pull cords or smartphone/WiFi integrated. Let us know what you're trying to do and we'll take care of you.
System Quote Get Help with System Design/Installation

1-800-558-8957