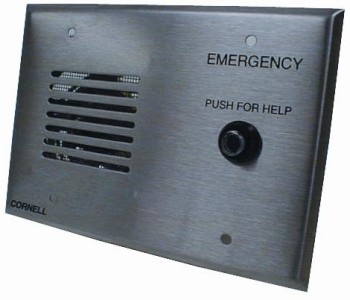 Bed Station, with Speaker Station and Single Jack
$230.00
$184.00
/each
(Online Price)
CORNELL 4511 Speaker Station provides call for help via a call cord along with voice communication.
Operation/Description:
The 4511 bedside station is equipped with a single jack for use with CORNELL call cords. A call is activated by pressing the call cord button and a red LED indicates when a call has been placed. Two-way communication can then be established by activating the bedside station speaker from the nurse station panel. Calls can be cancelled by pressing the cancel button. Removal of the call cord will initiate a call at the system annunciator or nurse station.
Description:
4511 stations feature a satin finish stainless steel faceplate with silk-screened designations. They may be surface mounted or flush mounted on a standard 3-gang outlet box. The depth requirement is 2"
Engineers Specifications:
The contractor shall furnish and install CORNELL 4511 bed stations as indicated on the plans.
Bed Station with Speaker Station and Single Jack
This replacement bed station is a necessity for emergency and everyday communication in the senior housing field. The convenient speaker enables communication between patients and caregivers and between hospital employees. A single jack makes this bed station easy to install. This nurse call system lets you communicate with your co-workers in different rooms, eliminating the need to speak in person or use phones. Simply press the button and speak to whoever you need to. You will get the job done faster and tend to emergencies quicker. Patients will receive easy access to nurses and other hospital employees from their bed with just a press of the button.
To learn about our current technology voice call systems contact the helpful support staff at Cornell at sales@cornell.com or 800-558-8957.
Cornell Communications is the number one nurse call system manufacturer. We have provided quality customer service and unmatched emergency communication systems for nearly fifty years. Our experts specialize in audio-visual nurse call systems and wireless call systems designed with advanced technology. We are located in Milwaukee, Wisconsin and offer many of our products for sale online, providing easy access wherever you are.
Shop Cornell Communications today for your hospital bed station or other nurse call systems.
Get Help with System Design/Installation
Read More
Get exactly the system you want.
Audio and visual nurse call systems for assisted living facilities, nursing homes, hospitals and outpatient medical clinics.
Traditional lights, buttons and pull cords or smartphone/WiFi integrated. Let us know what you're trying to do and we'll take care of you.
System Quote Get Help with System Design/Installation

1-800-558-8957