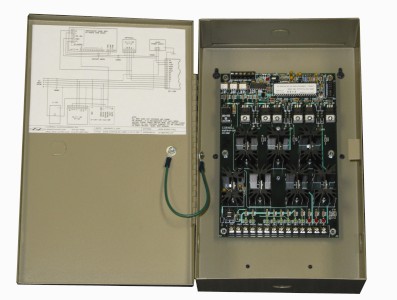 Control Module, Solid State for Dual or Triple Status Systems
$875.00
$743.75
/each
(Online Price)
Control Module, Solid State for Dual or Triple Status Systems
The NC-102D control module provides users with control over all functions associated with Cornell Multi-Status Emergency Call Systems. This control unit sorts calls from patient stations to the pre-set level of priority. This control module gives the user automatic control of both audible and visual notifications.
After a call has been placed, this module produces an audible tone at all duty stations, including the multi-status annunciator panel. The visual alerts are pre-set to three different levels, with each level indicating the priority of the patient call. First priority is indicated by rapidly flashing lights and an audible beep every ½ second. Medium priority has a slower flashing light, with an audible beep every 1 second. The low priority calls get a steady-on indicator and one beep every 6 seconds. This control unit operates at 24VDC and is UL listed.
We place our emphasis on providing quality customer service and manufacturing top quality nurse call systems. Our design team is always working on improving our products, focusing on better patient care and response times. The NC-102D control module is easy to operate and provides caretakers with an easy way to see which of their patients needs assistance. Provide a new level of patient care with a complete emergency call system from Cornell Communications.
Browse our power supplies available from Cornell Communications today.
Read More
Get the system you need.
Audio and visual nurse call systems for assisted living facilities, nursing homes, hospitals and outpatient medical clinics.
Order by Noon CST for same day shipping.
Traditional lights, buttons and pull cords or smartphone/WiFi integrated. Let us know what you're trying to do and we'll take care of you.
System Quote Get Help with System Design/Installation

1-800-558-8957