Wireless Nurse Call
Subscribe
Wireless Nurse Call System: inform
View other popular Cornell systems: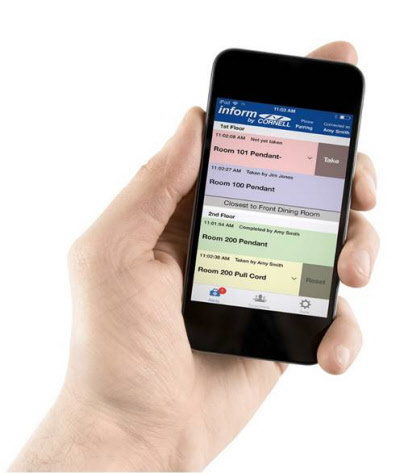 Innovative Nurse Call Systems for Smartphones
inform is the all-in-one nurse call system senior housing residences throughout the country are turning to for faster emergency communication. Improving staff responsiveness increases resident, family and staff satisfaction with inform from Cornell Communications, the experts in nurse call systems.
System Quote System Comparison
Easy Wireless Communication Improves Efficiency
As acuity levels increase, staff must work harder than ever to stay on top of resident needs. At the same time, families are more demanding—wanting providers to PROVE they're delivering great service. Until now, it took multiple devices to do that.
inform is a resident/nurse call solution and staff communication system rolled into one. It's mobile, touch-screen based and easy to use. Two way voice and text can be done with the touch of your finger.
Emergency Call System Provides Detailed Data on Each Call
With inform you'll know:
From which resident, where, and when a call came
Which staff member took each call and when
The travel time and time spent with each resident
What each staff member did with a resident
This data allows medical facilities to easily identify top responding staff members and high-need patients. See the outstanding results in your facility:
Drive staff accountability to new levels
Improve response time 50-70%
Improve resident, family, and staff satisfaction
Get Help with System Design/Installation
Fill out the form below for more details on adding inform to your healthcare facility, or contact Cornell's all-in-one nurse call system manufacturers.
I would like more information about Inform Wireless Nurse Call System