Audio Nurse Call
Subscribe
Audio Nurse Call Systems
View other popular Cornell systems:
Nurse Call Systems from Cornell Communications
No other communication system offers as many care-enhancing features as Cornell Communication's Aiphone Nurse Call Stations and Audio Nurse Call 4500 Series system. Both systems offer voice communication between the residents of senior care centers or nursing homes and their caregivers.
Concern and on-the-job insight for the needs of nurses and allied care givers drove the design of each element in our audio nurse call system. Cornell Communication's on-going dedication to continual improvement assures a newly installed emergency communication system will be capable of leading edge functionality, even as medical communication technologies evolve.
System Quote System Comparison
Audio Nurse Call Medical Communication Equipment Features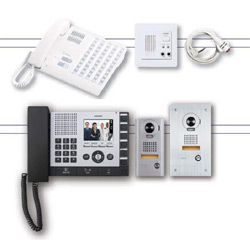 The Audio Nurse Call 4500 series are a highly intuitive and adaptive system, able to support top quality patient care without increasing the challenge to the care givers. Our audio nurse call system can be programmed to accommodate existing procedures, negating the need to change how things are done. This versatility allows audio nurse call system owners to fully benefit from the system's many features, which include:
Central and satellite stations for complete coverage of your facility
Easy-to-read annunciator systems for quickly identifying the origin of the call
Five-color programmable dome light systems
Digital readout desk consoles
Aiphone NHX Series Nurse Call System
The 7000 Series Audio Nurse Call System is the premier voice call system for outpatient clinics and senior living facilities. The 7000 Series Audio Nurse Call System features multiple call and notification options (bathroom call, routine checkup call, and cord-out emergency calling), common-area call stations, and a central control panel. If your facility needs the best in emergency medical communication equipment, choose Cornell Communication's 7000 Series Audio Nurse Call.
Get Help with System Design/Installation
Adaptable Audio Nurse Call Systems
With the audio nurse call systems from Cornell Communications, there's no need to learn new terminology or become a computer whiz to use the equipment. This highly intuitive system is designed for unparalleled easy-of-use and simple operation. This simple, easily understood, and highly functional system allows your staff to focus on providing superior care, not spending all their time deciphering a complicated emergency communication system.
These flexible emergency communication systems allow you to choose which components and how many to include. With our nurse call system design services, you can customize your audio nurse call system to meet the unique needs of your hospital or other medical facility.
The Cornell Communications Audio Nurse Call system also offers expansion capabilities able to accommodate facility growth and development while increasing the level of sophistication and functionality. The Cornell Communications Audio Nurse Call 4500 Series will maximize the return on your call system investment in terms of functionality, productivity, and profitability.
Nurse Call System Installation Services
Our emergency communication systems are designed, manufactured, testing, and installed to the highest standards. We work with experienced contractors for nurse call system installation to ensure all components are working properly.
Contact the audio nurse call system sales specialists at Cornell Communications today for more information on our outpatient clinic and assisted living emergency communication systems.