Visual Nurse Call
Subscribe
Visual Nurse Call Systems
Visual Nurse Call Systems from Cornell Communications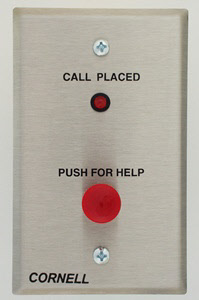 The 4000 series visual nurse call system from the emergency communication system distributors at Cornell Communications utilizes convenient bedside stations. The easy-to-use system allows hospital patients or nursing home residents to call for emergency assistance with the push of a button, or the pull of a string. An annunciator panel instantly alerts nurses and hospital staff with an LED indicator and a tone. A variety of emergency, duty, and staff stations provide additional call buttons, pull cords, and call indicator lights for different locations in the facility.
For decades, medical facilities and assisted living centers have been installing Cornell Communication's Series 4000 Visual Nurse Call System because of the consistent reliability and ease of use. Our visual nurse call system is one of the most widely used in the market today. Many outpatient medical clinics and senior assisted living facilities are now discovering the flexibility of the Series 4000 visual nurse call system. The additional features of our Visual Nurse Call system, such as zone lights and AURA 2.0 (a software system which provides data-logging for monitoring medical alert devices and broadcast notification to better inform staff of emergency situations), provides your facility with a wide ranging and highly dependable emergency communication system.
Versatile Emergency Communication Equipment
With any Visual Nurse Call system, adaptability will ensure it meets the individual needs of your medical facility or outpatient clinic. The nurse call system manufacturers at Cornell Communications have designed a wide variety of standard products in configurations intended to meet the unique requirements of any application. Our nurse call system design services allow you to have emergency communication capabilities to perfectly suit your facility and the needs of your patients and staff.
We are also the leader in renovation projects for one reason: we will custom manufacture mounting plates for special applications. If you need to cover a non-standard mounting location, multiple gangs are available. Older facilities looking to upgrade to a newer system find the basic Series 4000 ideal because of its simplicity. Often this system can be installed using existing wiring so there is no need for costly rewiring and electrical work. Our construction contractors provide nurse call system installation services to ensure all components are wired properly and functioning correctly.
Flexible Outpatient Clinic Communications Systems
Get Help with System Design/Installation
Visual Nurse Call Systems from Cornell Communications will provide your facility with a flexible and dependable communication tool. Start with the basic system, including bedside nurse call buttons, and build from there:
Add duty stations and zone lights for a comprehensive visual alert package.
Combine with AURA 2.0 for reporting, accountability, and broadcast notification.
Include medical pagers with VersaPage or AURA 2.0 for hard wired and wireless nurse call system.
Contact the visual nurse call system sales specialists at Cornell Communications for more information about our wide range of visual nurse call systems.