Get the system you need.
Audio and visual nurse call systems for assisted living facilities, nursing homes, hospitals and outpatient medical clinics.
Traditional lights, buttons and pull cords are smartphone/WiFi integrated. Let us know what you're trying to do and we'll take care of you.
Order by Noon CST for possible same day shipping*
*See Terms & Conditions
Need Some Assistance?
System Quote
System Design/Installation

1-800-558-8957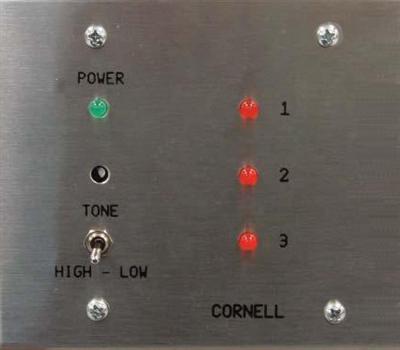 Annunciator, 3 Zone on 2 Gang Stainless Steel Plate
Online Price:

$233.75

/each

$275.00
Download Brochure & Wiring Diagram
Get Help with System Design/Installation
Description:
A-4003A Annunciator Stations provide call indication. Provided are a stainless steel plate with permanent silk screen numbered designations, red LED indicator lights and a power indicator light (green LED).
Related parts:
Operation:
Annunciator Station indicates incoming calls for use in systems requiring only three to six indicators. Call indication provided by red LED indicators and pulsating electronic tone. Panel equipped with High-Low tone switch.
Options:
Latching circuit available only on six station, Model A-4006L.
Mounting:
Flush two-gang (A-4003A) plaster ring or equal. Surface mounting is Wiremold 5744-S two- or three-gang as required. The minimum depth required is 2".
Engineering Specifications:
Provide and install a Cornell A-4003A (A-4006A) Annunciator. Faceplate shall be satin finish stainless steel with silk-screened designations. Call indicator shall be red LEDs and pulsating electronic tone. High/Low tone switch shall be provided. When a call comes in the light will turn on and a pulsating tone will be heard. Unit shall be flush or surface mounted.
Technical Information:
Power Requirements: 24VDC
Operating Environment: 50-120°F Indoor Non-condensing
Physical Faceplate Dimensions: 4.5"H x 4.57"W (2 Gang) 4.5"H x 6.375"W (3 Gang)
Mounting: 2 or 3-Gang back box with 2" minimum depth
Wiring: #22 AWG Minimum
Annunciator, 3 Zone on 2 Gang Stainless Steel Plate
This 3 zone, 2 gang annunciator is a crucial device to complement emergency call systems in the healthcare field. This call system enables communication among hospital employees and patients. The annunciator is color coded with easy to read lights for statuses. A stainless steel crafted plate is made to withstand water, vandalism and other damage. Count on this durable annunciator to benefit your organization for years to come. Cornell Communications specializes in annunciator and other call systems to last. We supply three, six and ten zone annunciators giving you a multitude of options. Our long-lasting devices are made with the highest quality materials and the most advanced technology to save you repair costs.
Cornell Communications takes pride in providing the highest quality nurse call systems on the market. Our products incorporate advanced design such as smart phone technologies to deliver top performance. We've provided unmatched, easy to use emergency communication systems for over forty years. Our company has evolved to include a competing audio-visual nurse call system and an emergency intercom system. Stop in at our Milwaukee location or shop our online store to see what makes us a leader in healthcare communications!
Browse Cornell Communications comprehensive selection of annunciators and nurse call systems to serve your organization's needs!