Get the system you need.
Audio and visual nurse call systems for assisted living facilities, nursing homes, hospitals and outpatient medical clinics.
Traditional lights, buttons and pull cords are smartphone/WiFi integrated. Let us know what you're trying to do and we'll take care of you.
Order by Noon CST for possible same day shipping*
*See Terms & Conditions
Need Some Assistance?
System Quote
System Design/Installation

1-800-558-8957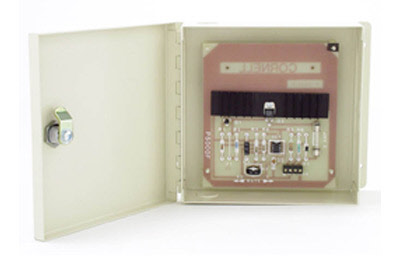 Online Price:

$348.50

/each

$410.00
Description:
The solid-state Flasher Module P-5000F provides a reliable, adjustable, pulsing signal.
Operation:
Cornell's P-5000F allows a steady light to flash with switched negative output.
Mounting:
Surface mounted enclosure.
Engineering Specifications:
The contractor shall furnish and install the CORNELL P-5000F Flasher Module to provide an adjustable pulsing voltage for priority calls. The module shall derive its operating voltage from a CORNELL 24V power supply.
Technical Information:
Power Requirements: 24VDC
Operating Environment: 50-120°F Indoor Non-condensing
Physical Enclosure Dimensions: 8 ¼"W x 7 ¼"H x 3 ¾"D
Mounting: Surface mounted enclosure.
Wiring: #22 AWG Minimum
Electrical Specifications: Maximum applied voltage 24 V DC, regulated. Maximum current capacity on flashing output is (F-) 3 amps DC.
Flasher Module, 3 Amps @ 24 VDC For Single Status System - 6 5/8"H x 6"W x 2 3/8"D
This P-5000F Flasher Module produces 3 amps with 24 VDC. This flasher module provides a constant pulsing signal light, which is easily adjustable. This P-5000F draws its power from a Cornell 24V power supply. This unit is designed for installation on vertical walls in a dry area. This module provides discreet communication when a priority call is placed, ensuring the patient receives proper care while saving response time.
At Cornell Communications, we pride ourselves on our outstanding customer service and high quality nurse call systems. We are constantly working to create new response systems which will lead to faster answer times and better patient care. This flasher module is easy to operate and can be installed quickly. Upgrade your current nurse call system to an industry leading emergency response system from Cornell Communications and begin providing a new level of patient care.
Browse all power modules to find the one best suited to your facility.
Get Help with System Design/Installation