inform Mobile Nurse Call System
Emergency Call Systems >> Mobile Nurse Call Systems
---
Elevate Your Nurse Call System Beyond Just Pendants, Lights & Pagers
Cornell's inform system features two-way communications, complete mobile functionality, an easy to user interface and comprehensive patient tracking & reporting. Our award winning mobile nurse call platform is leading the industry in nurse call technology. Inform is designed to:
Improve response times
Provide RTLS
Maximize staff efficiency
Maximize resident care
Inform's smartphone interface minimizes the need for alarms and distracting lights, creating a more peaceful environment for residents and staff.
Improved Staff Response Times. Improved Resident Satisfaction.
Use Cornell's inform mobile nurse call system to deliver the highest level of care, motivate teams to perform their best, and translate care data into business data to bill and staff accordingly.
Integrate Cornell's inform System into Your Facility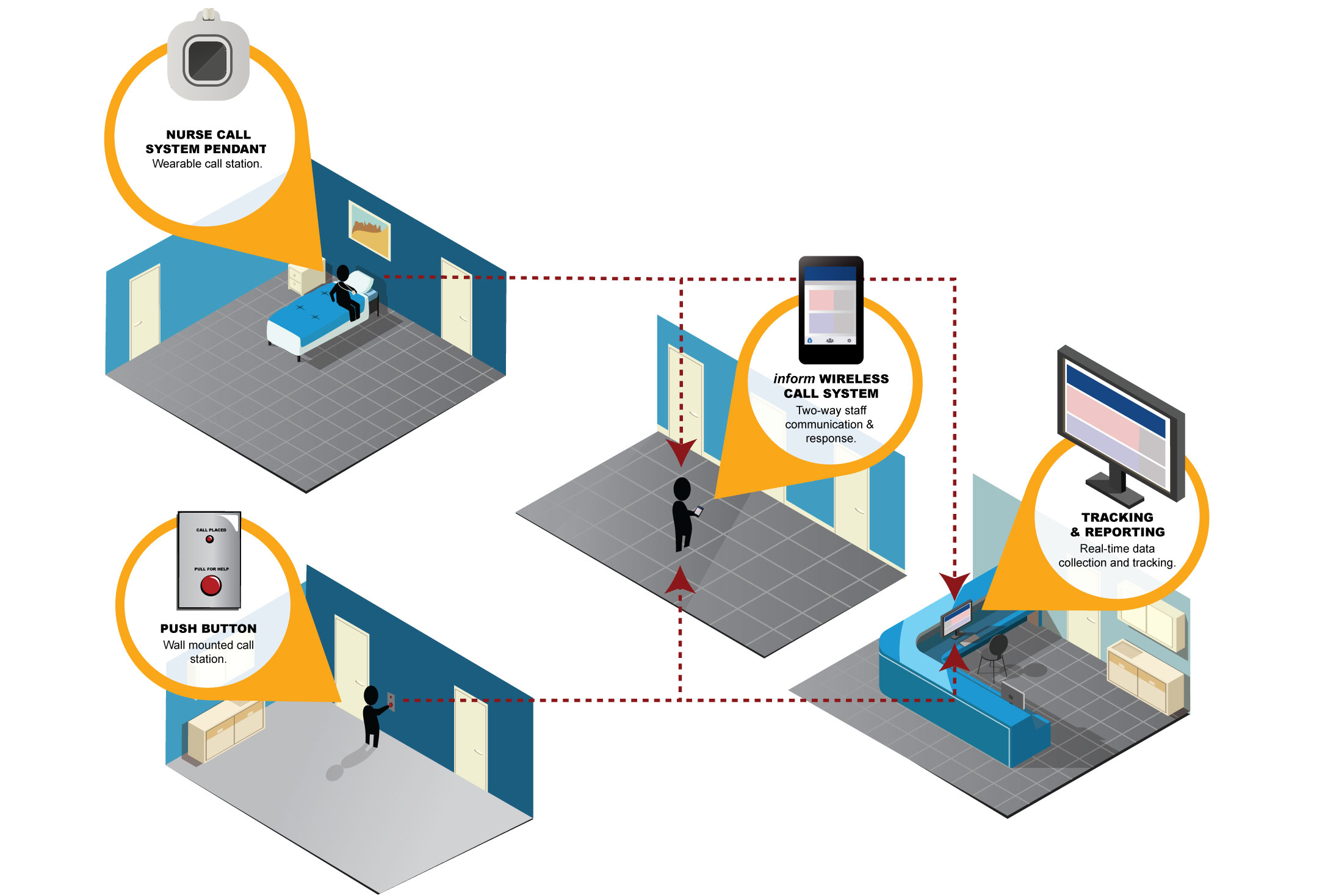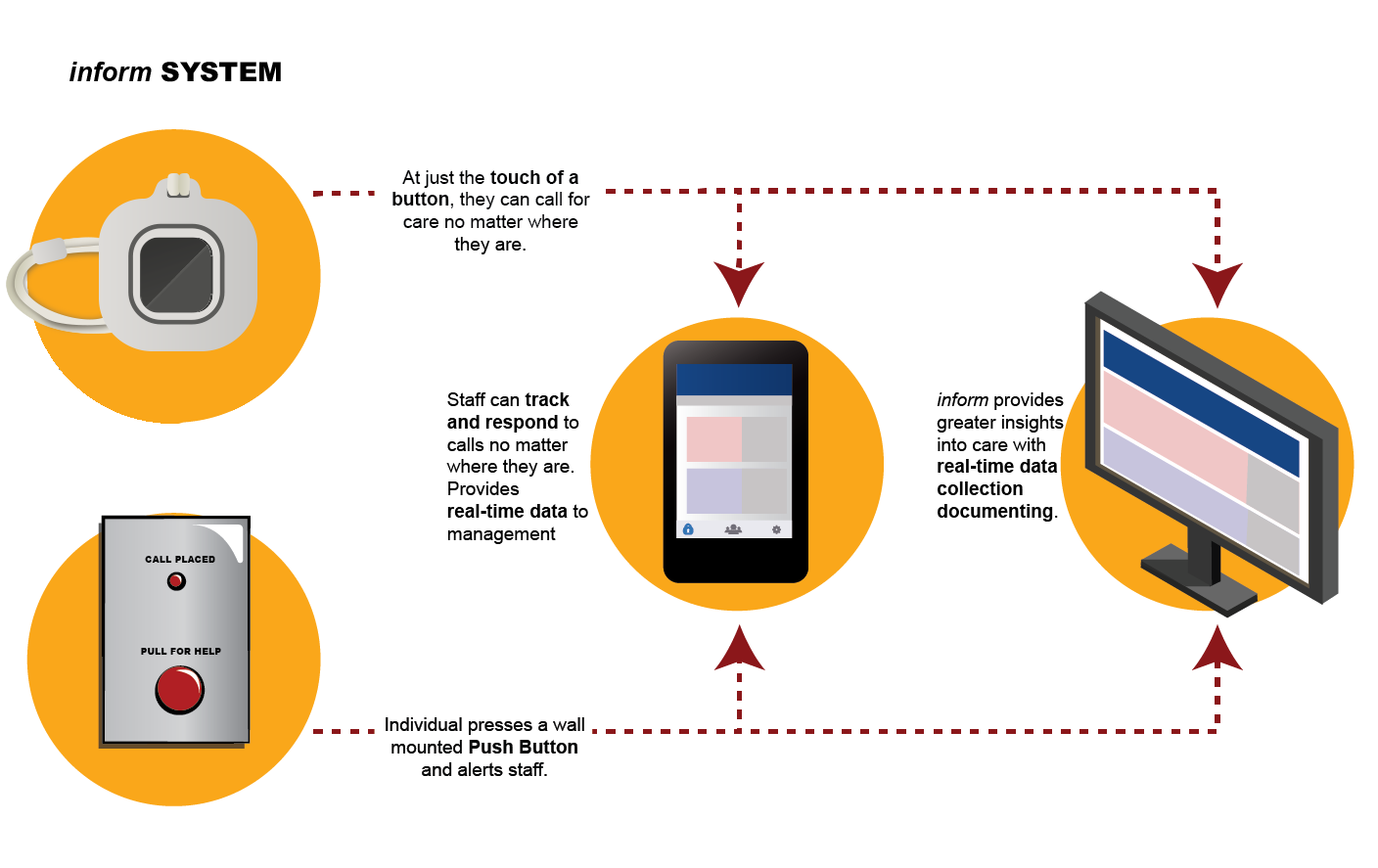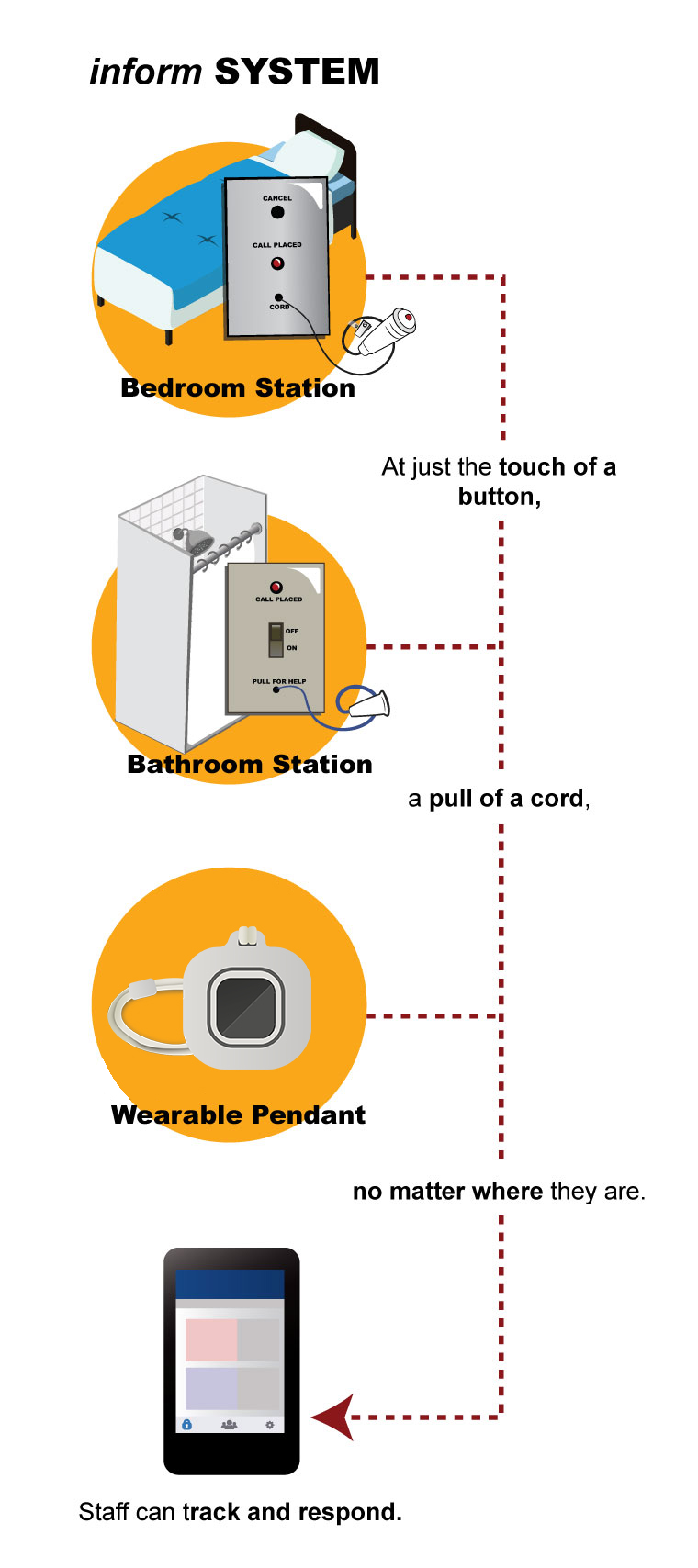 Compatible with iOS Devices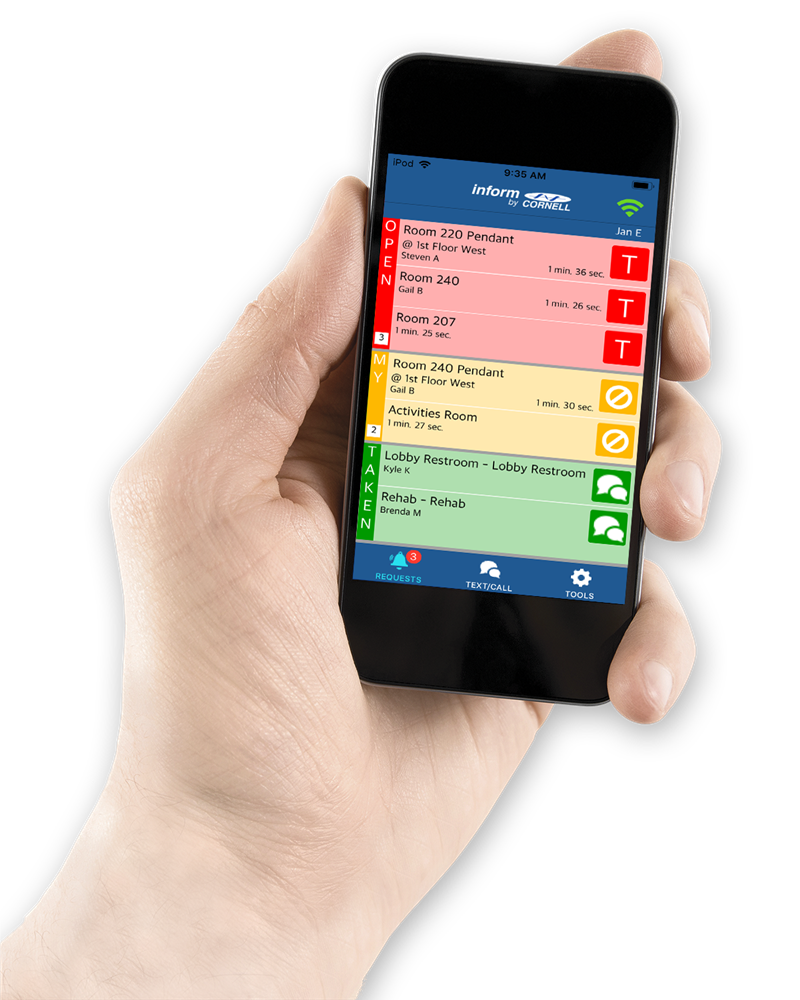 Cornell Communication's inform system is a complete nurse call system with two-way communication and real-time data on staff productivity and resident care levels. It runs on an easy-to-use iOS mobile device accommodating multiple applications.
Cornell Communications has manufactured innovative nurse call systems for over 40 years. Our inform mobile nurse call system is the culmination of decades of experience.
Combining resident and staff communication systems into one, inform eliminates the need for multiple communication devices while adding tracking and reporting capabilities that enhance staff performance and resident satisfaction.
Use inform to:
Improve response times up to 75% compared to industry averages
Improve staff location integration
Provide RTLS
Increase resident, family and staff satisfaction
Eliminate alarm noise for a more peaceful environment
Generate new revenue via billable telephone and internet services
Cornell's inform mobile nurse call system is the modern nurse call solution for assisted living facilities, outpatient facilities, and other businesses in need of an effective, affordable nurse call system. Facilities using inform report better response times and improved resident satisfaction. An inform system benefits everyone involved in your facility.
Residents love how inform reduces the need for noisy call systems and alarms. Reduced background noise and response time provide a healthier environment.
Families get peace of mind. Inform provides data on response times so families know their loved one is being properly cared for.
Staff love inform's easy to use interface. Nurses can easily respond to the nearest, most important calls. Staff prefer inform to other "Big Brother" systems that micromanage their every move.
Management receives accurate, real-time data on call volumes, call frequency, and response times when they use Data is used to monitor response times, increase efficiency, improve resident quality of life, and more. inform provides management with new data for revenue streams and sales.
Recipient of an Innovation Award at the 2014 Long-Term Care and Senior Living Conference, inform is the call system senior housing residences across the country are turning to for faster emergency communication and better accountability.
"We're taking thousands of calls per month, with an average response time of 3 minutes compared to an industry average of 7 minutes."
Grace Hall, Executive Director, Summerplace Assisted Living Community
Learn more by reading our online brochure for the inform mobile call system.
Four Steps to Using a Mobile Nurse Call System
Thanks to an easy to use interface, staff members can quickly address and identify calls from anywhere in their facility in just a few easy steps.
The resident in Room 101 places a call from their pendant. Amy can take the call by pressing the "Take" button.
Amy can see the pendant call from Room 100 was taken by a staff member named Jim Jones.
Amy is currently helping a resident in Room 200. She touches the "Complete" button when she is done with her task.
Amy enters the reason for the call: bathroom, fall, or other reasons. Data is collected for management review.
The inform system gives staff and management essential information at a moment's notice. inform shows:
Who placed the call
When the call was placed
Where the resident placed the call
What type of call station was used
Why the call was placed
Which staff member answered the call
How long it took the staff to respond to and complete the call
Key features to provide detailed data on each call:
Tracking
Notifies staff which residents need assistance when they are called
Indicates the location of mobile residents
Identifies which staff member took each call and when
Tabulates both and travel time and time spent with each resident
Documents the reason for each call (bathroom, food, fall, etc)
Reporting
Provides an accurate picture of the residents' level of need
Guides staff assignments backed by data
Provides proof to families of great service as well as any changing service requirements
Service
Reduces response times, increasing the satisfaction of residents and their families
Eliminates noisy alarms for a quieter environment
Talk/Text
Simplifies staff communications with optional talk & text
Miscellaneous
Integrates with your current nurse call. Includes wandering, bed and chair alarm systems
Locates residents calling from mobile pendants or chair alarms
Benefits of Using a Mobile Nurse Call System
Improve profitability
Increase occupancy with satisfied residents and families
Attract referral sources with data-driven results
Uncover new revenue sources with mobile technology efficiency
Deliver the highest level of care
Provide faster care with multiple applications on a single device
Enable proactive care with a point of care data trends
Give peace of mind to residents and families
Improve operational efficiency
Increase staff accountability with real-time alert tracking
Optimize staff time with two-way communication
Create a team environment with optimized workflows
Connect with future-proof technology
Easily scale up with a securely engineered solution
Monitor performance with real-time business data
Integrate with other apps through API integration
Mobile Nurse Call System Overview
Easy Mobile Communication Improves Efficiency
As acuity levels increase, staff must work harder than ever to stay on top of resident needs. At the same time, families are more demanding—wanting providers to PROVE they're delivering great service. Until now, it took multiple devices to do this.
inform is a resident/nurse call solution and staff communication system rolled into one. It's mobile, touch-screen based, and easy to use. Two-way voice and text can be done with the touch of your finger.
Extendable and scalable, inform addresses HIPAA compliance and includes a software assurance program that provides updates at no additional charge.
Cornell's inform mobile nurse call system is popular in rehabilitation facilities and even veterinary clinics. Nursing homes assisted living centers, and senior facilities also benefit from our call systems. These systems comply with various regulations for these types of public accommodation. Contact us and request a FREE quote for the inform system, or learn more about how to meet nursing home requirements and call system regulations.
Read inform Case Studies
To have inform integrated into your healthcare facility by mobile nurse call system specialists, contact Cornell Communications.