Door Monitor
Door Monitoring Systems for Outpatient Medical Centers and Senior Living Facilities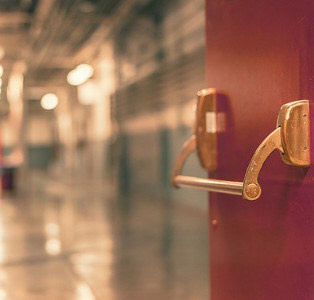 The Series 1000 Door Monitor System from Cornell Communications offers a unique combination of high quality construction and a wide range of customizable options. Down to the last components, the Door Monitor Series 1000 from Cornell Communications has been built for consistently dependable performance in any situation and application. We use only solid-state door monitor panels fabricated with anodized aluminum faceplates and long lasting LED bulbs.
The Cornell Communications Door Monitoring system provides senior and assisted living facilities with a wealth of unique options and custom features capable of integrating with your emergency communication systems, which means your Series 1000 Door Monitoring system is sure to deliver trouble-free performance, year after year.
Senior Monitoring Systems with Front Door Entry Alarms
Our senior monitoring systems for nursing homes and assisted living facilities are perfect for wander management. The door monitor alarm helps staff keep track of patients who are prone to wandering, such as those with dementia or Alzheimer's. Using dementia wandering management devices near all exits of the building ensures the safety of some of your most vulnerable residents.
Unique Door Monitoring System Settings and Options
The Series 1000 Door Monitoring System offers our customers a full range of options to help you design the right system for every application. Consider how a typical nursing home makes full use of the Series 1000:
The master panel controls and monitors each door in the system constantly—including exterior, stairwell, and individual room doors. During the day, the main entrance is left open and disarmed, as are the doors to individual patient's rooms—a status signified by steady green LEDs.
Should any entrances or exits be opened by an unauthorized individual, an emergency notification light begins flashing and an intermittent alarm tone sounds at all master and remote panels. Should a second door be opened before the first is investigated, an overriding tone sounds (naturally, these alarms can be muted or silenced for noise-free applications).
Changing the status of a particular door is as simple as touching the right zone switch on the master panel for this installation. However, it can be as complex as requiring the insertion of a key at this panel or at a remote station. The configuration you specify will depend upon the number of functions required in a given application.
Master and Remote Door Monitoring Stations
Remote control panels and remote monitoring panels are available for the Series 1000. For remote control applications, your door monitoring system function may be complementary to the main panels, or easily transferred to assume exclusive control of all doors in the system. A 12 or 24 Volt battery backup ensures security even if the regular power supply is compromised. The Cornell Communications Door Monitoring Series 1000 System offers you a wide range of expansion and integration options. So it's a cost-effective solution for applications involving as few as two or three doors up to systems involving hundreds of doors.
Contact the door monitoring system specialists at Cornell Communications today for more information about our excellent emergency communication systems, including our wireless emergency response technologies and audio or visual nurse call systems.