Emergency Call Systems for Senior & Assisted Living Centers
Senior & Assisted Living Facility Nurse Call for Emergency Communications
Network of Emergency Technology for Nursing Homes and Other Care Centers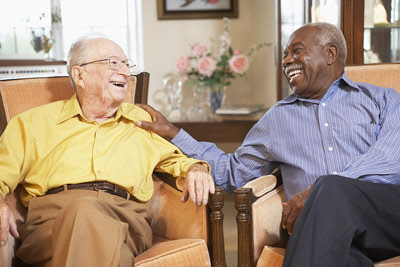 Senior alert systems help keep elderly residents of assisted living and nursing homes safe in the event of an emergency. Wireless medical alert systems allow seniors to call for help with the push of a button if they fall, suspect a heart attack, or need other assistance.
Fast and efficient communication is vital when caring for and ensuring the safety of the elderly or those in need of long term assisted care. Possessing easy-to-use and thoroughly dependable nurse call systems for emergency communication can make all the difference when responding to an emergency and saving a life. Keep your residents safe and independent with the high quality assisted and senior living nurse call systems available from Cornell Communications.
Our alarm and communication systems help reassure our customers, giving them peace of mind knowing they have 24/7 access to technology that can get them help in emergency situations. Some of our featured emergency communication and response systems available include:
Our nurse calls for emergency situations also include logged documentation capabilities for recording the response times of your staff and ensuring your residents' needs are met.
Wireless Emergency Communications for Nursing Homes and Other Senior Living Facilities
Nurse call pendants, medical pagers, and other components of wireless emergency communication alert systems allow residents of nursing homes and assisted living facilities to feel secure knowing assistance is at their fingertips. With just the push of a button, a nurse or caregiver is instantly notified and able to respond. Residents' families can rest assured their loved ones are safe and well cared for.
Nursing Home Call Light Systems
Our clinic status system informs nursing staff of a room's status at a glance. Colored lights indicate whether a room is occupied, vacant, receiving a treatment, or having an emergency. This patient management system improves and coordinates patient flow.
Nurse Call System Design and Installation
The flexible and highly adaptable senior and assisted living emergency nurse call systems offered by Cornell Communications are designed for a wide range of senior care facilities and the individual care requirements of senior residents. Whether your residents or patients are independent and only require limited assistance or need round-the-clock care and attention, Cornell Communications will provide the exact solution your facility requires for quick responses to life-threatening emergencies.
Each of our emergency communication systems can be customized with our nurse call system design services. Get as many bedside stations, wireless pendants, and medical pagers as your facility needs for optimal efficiency. Our trusted contractors provide nurse call system installation as well to ensure all wiring and other specifications are installed correctly and every component is working properly.
Contact the professional emergency communication systems experts at Cornell Communications today for information about our high quality senior and assisted living facility nurse call and wireless emergency response systems.