Nurse & Emergency Call System Design and Installation
Emergency Call Systems >> Emergency Call System Design
---
Area of Refuge & Nurse Call System Design

Cornell Communications designs ARA systems, nurse call systems and door monitoring systems with safety and staff efficiency in mind. Skilled care, memory care, independent & assisted living facilities and other medical centers. Our nurse call system designers work with clients to understand the unique needs of their facility. We build every nurse call & ARA system to fit the property and maximize safety & staff efficiency. No two Cornell systems are identical because no two healthcare facilities are identical. Contact Cornell Communications for expert:
Nurse Call System Design Area of Refuge System Design Clinic Status System Design Access Control System Design
Nurse Call System Design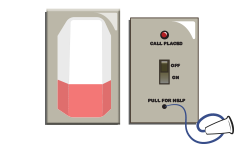 Cornell Communications offers the best nurse call system design in the industry. We regularly design nurse call systems for hospitals, assisted living communities and other medical facilities. Your building is unique as the residents, staff, and guests inside. Cornell designers work with you to create a one-of-a-kind nurse call system that satisfies your unique needs. Custom designed nurse call systems from Cornell are found in assisted living communities, hospice care centers, hospitals, clinics and more. From custom visual wired nurse call systems to state of the art mobile nurse call systems, Cornell will design the perfect nurse call system for you.
A nurse call system designed by Cornell's engineering team delivers maximum staff efficiency and resident satisfaction. We identify and recommend technical decisions to reduce costs, increase user productivity & optimize system performance. Because Cornell's nurse call system can be scaled indefinitely we can design a system for facilities with 20 or 2,000 beds.
In

form

TM I A Mobile - Nurse Call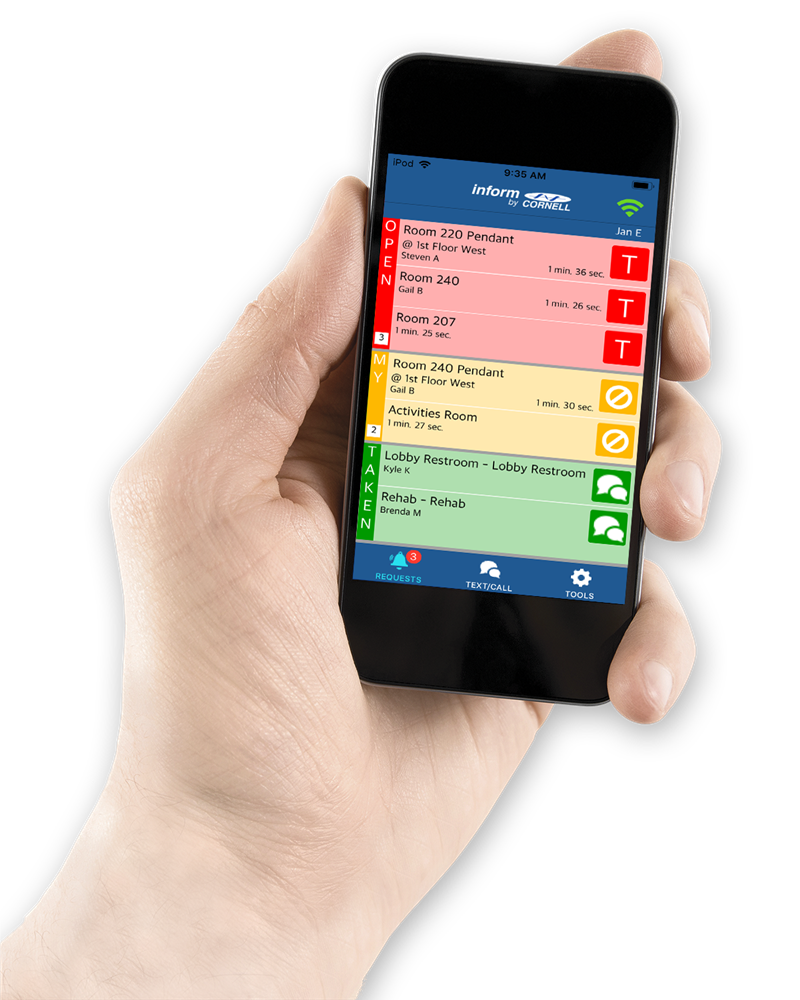 Cornell's all-new InformTM I A Mobile nurse call system helps medical facilities deliver the highest levels of care possible. Using inform, our nurse call system designers connect staff with pendants, pull cords, push-button stations and more. Customers who had nurse call systems designed by Cornell experienced improved profitability, improved operational efficiency, improved resident comfort, and improved family satisfaction.
The InformTM I A Mobile system can be configured to display real-time information like:
Who placed the call
When the call was placed
Where the resident placed the call
What type of call station was used
Why the call was placed
Which staff member answered the call
How long it took the staff to respond to and complete the call
IndePendent - Wireless Nurse Call
In addition to regular bedroom and bathroom call stations, IndePendent uses nurse-call pendants worn by residents (also a feature of inform). These pendants enable residents to always have a call station with them, so they can call for help wherever they are. Your staff also has the system on them at all times, in the form of pagers. This enables staff members to get alerts anywhere in the building, minimizing the need for loud alarms that stress and exhaust staff members and residents alike.

Advantages and features of IndePendent:
Less wiring helps make installation less expensive
Residents can call for help – and be automatically located – anywhere in the building
Staff members receive alerts anywhere in the building
Fewer alarms = quieter environment
All data can be tracked in a central computer so administrators know:

Staff response times to residents' calls
The busiest times of day/night for calls (so they can schedule staff efficiently)
IndePendent helps keep patients safe, care efficient, and costs down. For an even more advanced system, consider In

form

TM I A Mobile : the mobile-phone-integrated nurse call system.

Area of Refuge Assistance System Design
Cornell Communications will design the perfect area of rescue system for your new or existing facility. We work to design the safest area of rescue system for your facility, ensuring your building meets all codes and residents can safely be evacuated in the event of an emergency. ARA systems from Cornell Communications are designed to meet local regulations and can call offsite when necessary.
Area of Rescue AssistanceFree 4200 QuoteFree 4800 Quote
Clinic Status System Design
Clinic status systems designed by Cornell Communications help optimize staff efficiency and guest flow. Hospitals, assisted living facilities, veterinary clinics, nursing homes and more benefit from improved emergency communication.
Access Control System Design
Cornell Communications designs access control systems for hospitals, hospice centers, assisted living communities and other customers who need to track and control traffic inside and outside their building. Contact our access control system designers for more information.
Nurse Call System Manufacturers & Installers
The emergency call system manufacturers at Cornell custom design nurse call systems to meet the needs of your skilled care residences, assisted living center, medical office, or other healthcare facilities. Once your emergency communication system has been designed to your exact specifications, our construction contractors will install it for you. Our nurse call systems can usually be integrated with existing wiring. Depending on the system, different components are needed. Our nurse call system installers will make sure all the necessary components are wired and working properly. Our emergency response systems are backed by a standard 3-year warranty, which can be extended to 10 years with our extended warranty form.
Contact nurse call system manufacturers at Cornell Communications to have an innovative clinic or light system designed for your facility.