Area of Refuge/Area of Rescue Emergency System
Emergency Call Systems >> Area of Refuge Systems
---
Overview Requirements Design Signage Wiring Free Build Quote
Area of Refuge System Overview
Cornell's 4200 and 4800 Series area of refuge systems (area of rescue) provide emergency communication between call stations and annunciators. When combined with appropriate ARA signage, Area of refuge assistance systems from Cornell meet ADA, IBC and NFPA regulations.
What is an Area of Refuge?
An area of refuge sometimes called an area of rescue, is a location in a building designed to safely hold individuals during an emergency. Areas of refuge are set aside for situations when normal evacuation is unsafe or impossible. For instance, hospital patients or nursing home residents may be unable to use the stairwell during a fire. Individuals with limited mobility can wait in the secure area of refuge until assisted by firefighters or other rescue teams.
Area of Refuge Communication Systems
A voice communication system
A call station
A confidence light to indicate an active call button
An acknowledgment light to show someone has received the call for help
Buildings around the globe use Cornell's time-proven area of rescue emergency intercom systems to:
Ensure individuals with limited mobility are safe in emergency situations and have a method to call for assistance
Ensure schools and other public venues have a system for individuals to call for help in dangerous situations
Alert first responders to individuals in distress
Offer communication with first responders
System Design System Technology System Signage System Cables ADA Requirements Local Requirements
---
4200 Series Analog Area of Rescue Emergency Communication System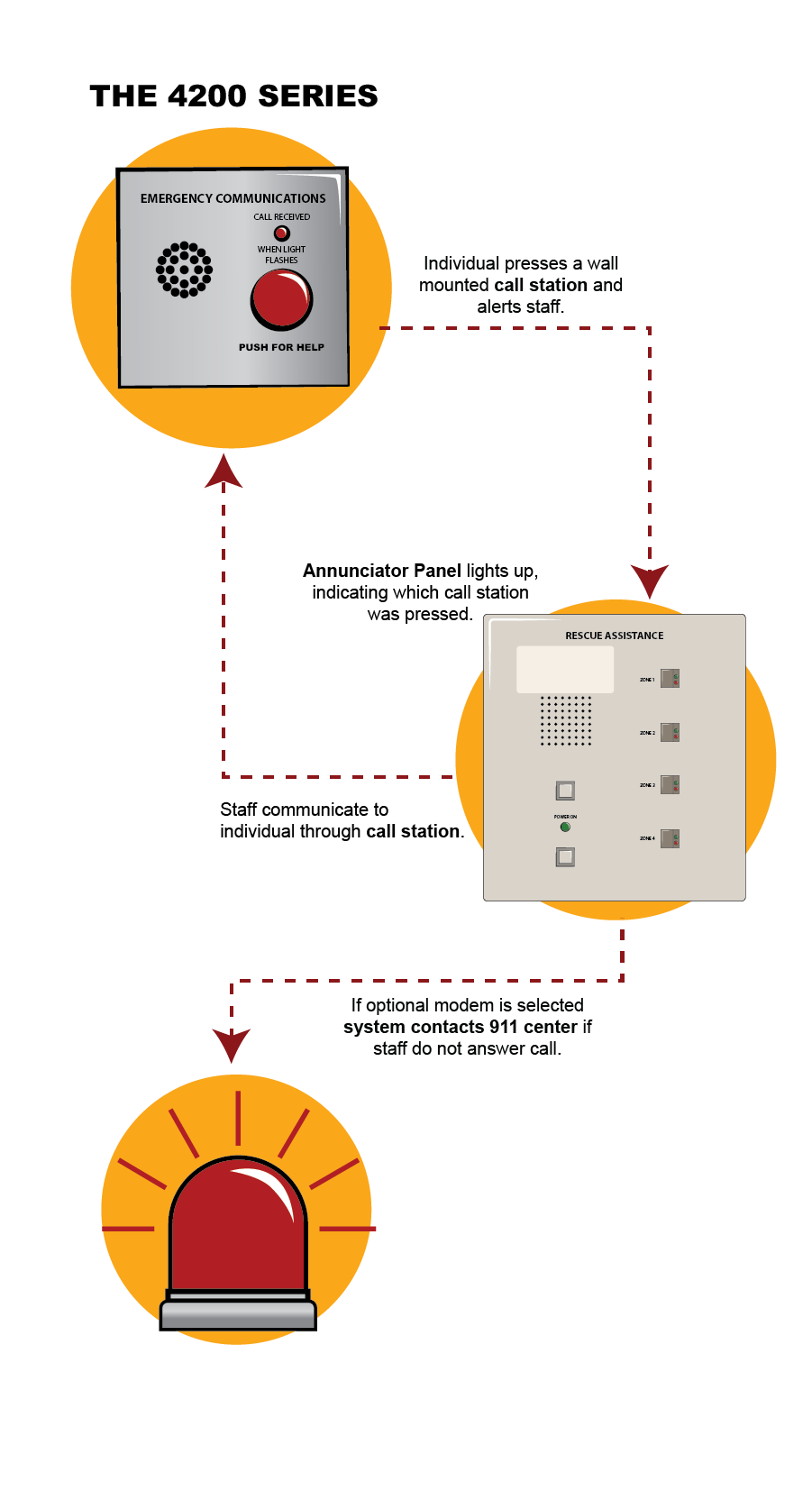 The 4200 Analog Emergency Communication System from Cornell operates as indicated above with individual buttons for each alarm station or zone routed to an annunciator panel. Our 4200 Series analog area of refuge system can be sized from 4 to 20 zones in multiples of 4 zones. The system only allows for one Master Control Panel and communicates to the remote 911 center via text and pre-recorded voice messages only. Two-way communication from the annunciator to the call station is available.
Free Build Quote Overview & Brochures Components & Product Sheets Architectural Specs Wiring Diagrams Design Guide
Free Build Quote Overview & Brochure Components & Product Sheets Architectural Specs Wiring Info Installation Manual Design Guide