Rescue Assistance Communication Systems and Signage
Overview: Area of Rescue or Area of Refuge Emergency Communication Systems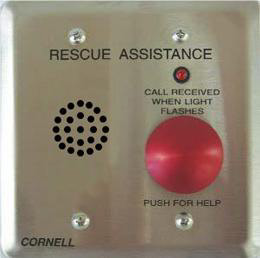 Multi-story buildings around the globe use Cornell's time-proven area of rescue or refuge emergency intercom systems to:
Ensure individuals with limited mobility are safe in emergency situations and have a method to call for assistance
Allow schools and other public venues to have a system for individuals to call for help when they encounter a dangerous situation
Signage is also required by the building codes, ADA and NFPA 101 regulations to assure individuals can locate the call stations and the safe refuge areas along with instructions to call for assistance.
System Design and Configuration
A. Call stations to request assistance
Highly intuitive vandal resistant call stations are typically placed in each stairwell or adjacent to the elevators to provide hands-free emergency voice communication at the press of a button. A tone and flashing light assure the caller their call for help has been received, and a voice confirmation response will assure them help is on the way.
B. Calls are communicated to a Master Panel or to offsite Emergency Response Centers
When the call is activated it is indicated on the master panel typically located near the building entrance, Fire Alarm Panel or in the Security office. Some buildings will mount additional panels at secondary or all building entrances. The person hearing the tone selects the alarm zone calling for assistance, talks to the caller and indicates when help will arrive. If the call is not responded to in a time set by the system the call is forwarded to an offsite 911 emergency response center.
C. A 24VDC Power Supply
Centrally powers the system with a battery backup to ensure operation in times of emergency.
D. Cabling
Custom cabling is available in plenum and non-plenum styles along with Fire Resistant Cable for the 4200 analog system.
E. Area of Rescue Signage
That meets ADA regulations is required in three forms. Directional signs to show the way to the alarm station and safe refuge area, Lighted Room Location signs to identify the refuge area and finally Instruction signs indicating how to operate the alarm station to call for assistance.
Technology
**Cornell offers two alternative product solutions:
**The Area of Rescue Emergency Communication System was mandated by the American with Disabilities Act (ADA) in 1993 and made mandatory in all multi-story buildings by the International Building Code (IBC) adoption in 2015.
**Which system should I select? The IBC code now requires two way communication between the offsite 911 center and the person calling for assistance. Building codes are implemented locally and enforced by the Authority Having Jurisdiction (AHJ). Certain AHJ's interpret this as two way voice (intercom) communication between both parties which can only be accomplished with the Model 4800 Digital system. Other AHJ's feel text or recorded messages meet that requirement and say the Model 4200 Analog system is adequate. Consult with your AHJ to determine the requirements for your locality.
This legacy system operates as indicated above with individual buttons for each alarm station or zone. It can be sized from 1 to 28 zones in multiples of 4 zones, can have only one Master Control Panel and communicates to the remote 911 center via text and pre-recorded voice messaging only. Two way voice communication to the call stations is available from the master panel but not from the 911 center.
This system was developed to meet the requirements of the International Building Code (IBC) that was adopted by the US in 2015. It provides for up to 5 Control Panels and 255 call stations maximum, therefore lending itself to larger buildings. It also provides for two way voice communication both in the building and with the 911 Center.
Area of Rescue Emergency Signage
Cornell Communications offers a complete line of Rescue Assistance Signage which meet ADA specifications for use with Areas of Rescue. This includes:
Entry and exit direction and location signs
Powered signs including battery back-up
RADIANCE photoluminescent room identification signs
Area of Rescue System Custom Cable
Simplify your installation with custom cable designed to meet our specifications
4200 Analog System
CB-4200 Smartwire – Connects the Master Station to the Call Stations
CB-4004 – Connects the Power Supply to the Master Panel
4800 Digital System
CB-4800 – Connects the Master Station to the Call Stations with Fire Resistant Coating
CB-4802 – Master Panel to Remote Masters and Master Panel to Call Stations.
CB-4804 – Master Panel to Power Supply for Power
CB-4002 – Master Panel to Power Supply for Fault Detection
ADA Requirements
The Americans with Disabilities Act requires areas of rescue assistance or places of refuge where people can wait for emergency personnel to arrive. Areas of rescue on each floor of a multistory building, such as a hospital, allow people who cannot use the stairs to call for help, receive instructions, and wait for assistance during an evacuation. Clear signage reading "Area of Rescue Assistance" is required, along with instructions for using the two-way communication system.
The emergency communication system must be usable for people with hearing impairments, speech impairments, and difficulty accessing. An area of rescue system with both visible and audible signals allows the people with hearing or speech difficulties to receive information. A light indicating the call was received and a voice intercom make the system more accessible in an emergency. An emergency call system with no handset also makes it easier for people with difficulty reaching or grasping to call for help.
Contact the Area of Rescue communication systems specialists at Cornell Communications today for more information about our emergency communication technologies.