4200 Series Analog Area of Refuge System
Emergency Call Systems >> Area of Refuge Systems >> 4200 Series Area of Refuge System
---
4200 Series - Analog Emergency Communication System from Cornell
Cornell's 4200 Series analog area of refuge system (area of rescue system) uses a public telephone line for voice communication. In an emergency, the caller simply pushes the call station button. Personnel at the call station can then speak with the caller. The system's simplicity of use is essential in stressful, emergency situations.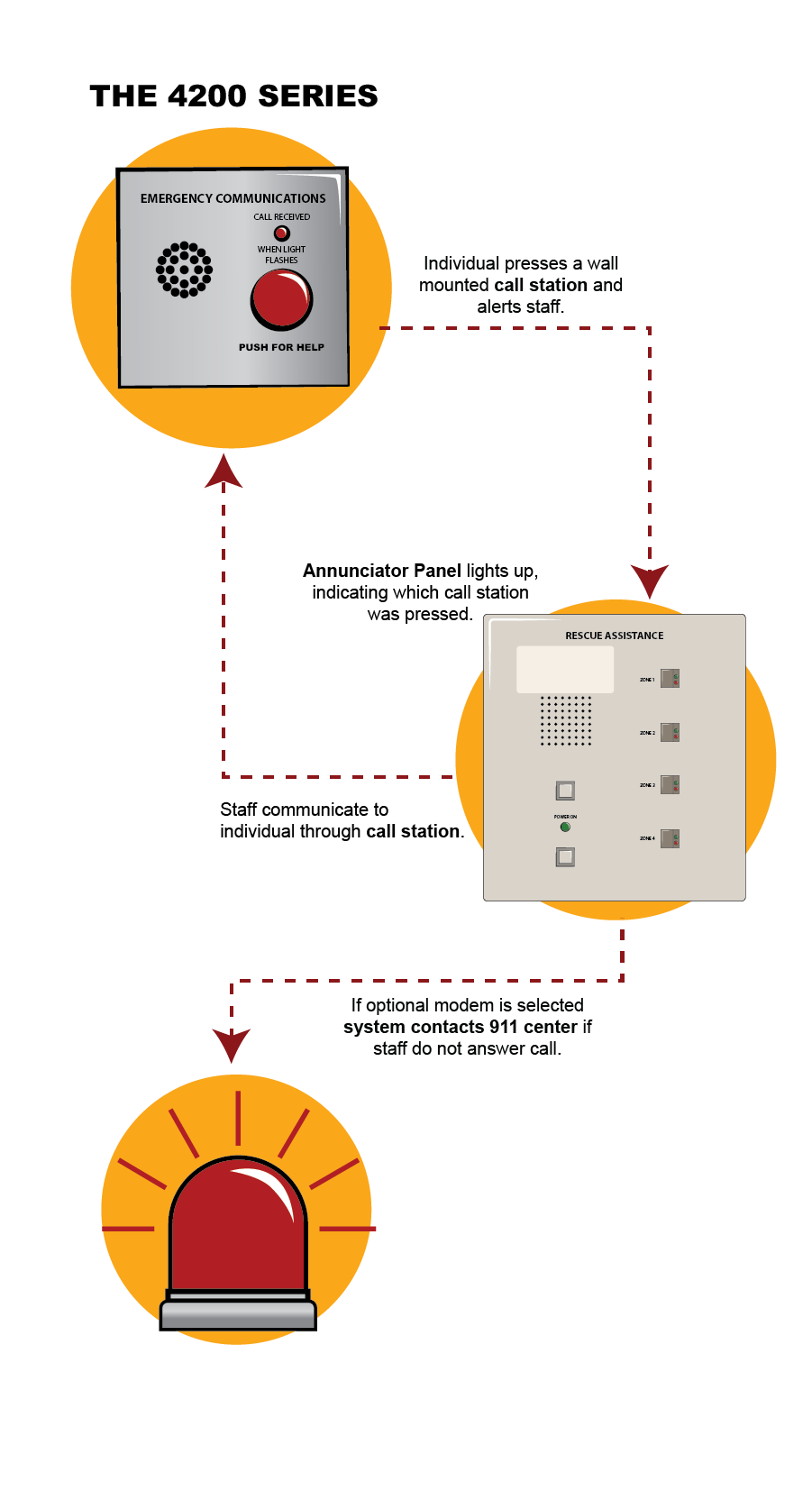 The 4200 Series operates as shown above and can be sized from 4 to 20 zones in multiples of 4 zones. Only one Master Control Panel is required. The system communicates to the remote 911 center via text and pre-recorded voice messages only. Two-way voice communication to the call stations is available from the master panel but not from the 911 center.
This area of rescue system offers different designs for a range of applications and is designed to resist vandalism and to prevent false alarms. As a world leader in emergency call system technology, Cornell Communications is committed to developing reliable emergency communications systems and helping hospitals, nursing homes and public buildings maintain compliance with the Americans with Disabilities Act (ADA), which requires an Area of Refuge Assistance System in all newly constructed multi-story commercial buildings and public accommodations. Cornell Communications is here to ensure your new or existing facility meets all area of refuge requirements.
Components & Product SheetsWiring DiagramsSystem DesignArchitectural SpecsOverview/ManualsLocal Requirements
4200 Series Area of Refuge System Components & Product Sheets
4200 Series Area of Refuge System Wiring Diagrams
This electrical wiring diagram specification manual contains instructions and diagrams on assembling your 4200 Analog Emergency Communication System. Contact Cornell for emergency call system installation assistance.
4200 Series Area of Refuge System Design Guide
Our 4200 Series Area of Refuge Systems come with programmable features tailored to various industries. Our System Design Guide shows how to adjust different features to your preferences. Check out our design guide to learn more, contact us with questions, or use our new quote tool to do the math for you!
System Design GuideContact UsFree Build Quote
4200 Series Area of Refuge System Architectural Specifications
4200 Series Area of Refuge System Brochure & Manuals
Cornell's 4200 Series Area of Refuge system enables security for those with disabilities in the workplace. View our system brochure or operation instructions for more information on operating your 4200 Series Area of Refuge system. Our signage overview details different signage available. Check out our installation guides for information on installing area of refuge signage in your new or existing facility.
System BrochureInstallation GuideOperation InstructionsSignage GuideSignage Installation GuideSignage Ceiling Mount TemplateSignage Wall Mount Template
4200 Series Area of Refuge System Requirements by State
Area of refuge IBC regulations are highly nuanced. A system in Alaska might not meet area of refuge requirements in Wyoming. Cornell Communications is here to help you design the perfect system for your new or existing facility
Area of Refuge Requirements in:
Contact Cornell Communications for more information on the 4200 Series Area of Refuge System.