Visual Nurse Call
Visual Nurse Call Systems from Cornell Communications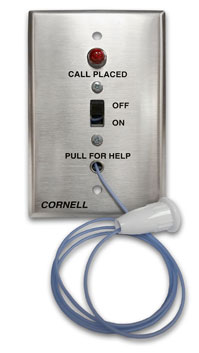 See Care Alerts Instantly For More Efficient Response
Visual Nurse Call systems are the most basic emergency call solution typically used in skilled nursing homes or healthcare clinics where a resident or patient requires a method to call for assistance. These systems enable you to better inform staff of care alert situations and respond more efficiently with at-a-glance information.
Cornell's wired nurse call system with LED indicator and tone alerts uses convenient bedside stations. Our visual care and emergency alerts are widely used for senior care, outpatient clinics, or hospitals.
Visual Nurse Call System benefits:
Reliable and easy to use
Push button or pull string operation
Retrofits to facility wiring infrastructure
Additional enhancements available:
Emergency, duty and staff stations across facilities
Zone lights
Aura 2.0 data-logging and reporting
Broadcast notifications
Medical pagers
Special application mounting plates
Visual Nurse Call System Design, Integration and Implementation
Deliver a high level of care with products that are configurable to meet your required application.
Cornell's engineering team helps you get the most out of your system by assessing your environment and long-term objectives. Our process works like this:
Identify and recommend technical decisions to reduce costs, increase user productivity and maximize system performance
Design and implement a custom solution
Hands-on training
Ongoing support
System Design & Configuration
Call stations to request assistance: Typically, a wall mounted pull cord station (string activated) is located near the toilet, bath or shower. If the person is bedridden, a wall mounted bed station with a 6- or 10-foot call cord allows the request for assistance to be activated from the bed.
Calls are communicated to the staff: Typically, a corridor light fixture in the hallway above the door of the room and on a central monitoring panel at the nurses' station notify staff of a request for assistance. In many applications a pocket pager carried by the staff allows the contacting of the mobile staff members.
A 24VDC Power Supply centrally powers the system and a Control Module generates two different signals to distinguish between emergency calls and regular calls for assistance.
Optional Call Devices include Staff, Duty, Code Blue and Check-In stations.
Call System Technology
Visual nurse call systems typically incorporate wired technology, but also can be provided with wireless stations to simplify the ease and cost of installation. Wireless pendants provide an easy way for residents/patients to request assistance from anywhere.
System Sizing
Although we offer custom-designed systems, the emergency communication system distributors at Cornell also offer standard system sizes as follows:
Small Systems
Medium Size Systems
Standard or Large Systems
The Universal Control Panel handles 4, 6, 8, 12, 24 or 48 stations (A-4400 with a separate power supply)
Flexible Outpatient Clinic Scheduling and Communications Systems
Visual Nurse Call Light Systems from Cornell Communications will provide your clinic with a flexible and dependable communication tool. Our call systems for outpatient monitoring provide reliable information, fast emergency communication, and enable efficient response times.
Start with the basic system, which includes a Corridor Light and a Room Status Station (with three lighted buttons indicating up to six conditions with a steady or flashing light), then build from there.
Versatile Emergency Communication Equipment
With any Visual Nurse Call system, adaptability is key to ensuring it meets the individual needs of your medical facility or outpatient clinic. The call system manufacturers at Cornell Communications have designed a wide range of standard products in configurations to meet the unique, and often evolving, requirements of our customers. Our nurse call system design services ensure your system's emergency communication capabilities are perfectly suited to your Skilled Care, Memory Care, Independent Living or Assisted living residents and staff.
Nurse Call Station Installation Services
Cornell Communications is the leader in renovation projects because we custom manufacture mounting plates for special applications. If you need to cover a non-standard mounting location, multiple options are available.
Older facilities looking to upgrade to a newer system find the basic Visual Call System (Series 4000) ideal because of its simplicity. Often this system can be installed using existing wiring, eliminating the need for costly rewiring and electrical work.
Our employees and affiliated installation contractors provide nurse call system installation services to ensure all components are wired properly and function correctly.
Contact the visual nurse call system specialists at Cornell Communications for more information on our wide range of emergency visual nurse call systems.