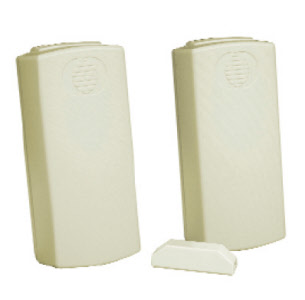 Universal Transmitters
Product ID:
TR-U100IVE-TR-D100IVE
Product SKU:
TR-U100IVE-TR-D100IVE
Call for pricing
(1-800-558-8957)
Description (TR-U100IVE):
For use with any standard contact or sensor, this reduced/size universal transmitter is fully supervised and comes with case temper and supports end-of-line resistor. It includes a 3.0V Lithium battery. UL Listed.
Description (TR-D100IVE):
Same as the TR-U100IVE, but includes two built in reed switches that support up to a 0.6" gap. It can support an N/O or N/C external contact when using the reed switch. It also includes case, wall tampers, magnet that supports a ⅝" gap and a 3.0V Lithium battery. UL Listed.
Operation:
Cornell's TR-U100IVE and TR-D10IVE can be used to wirelessly transmit any device with a dry-contact
Mounting (TR-U100IVE):
Includes mounting bracket. Device is wall-mounted only.
Mounting (TR-D100IVE):
Includes mounting bracket. Device is door/window mounted only.
Engineering Specifications:
The contractor shall furnish and install the CORNELL TR-U100IVE or TR-D100IVE Wireless Universal Transmitters as indicated on the plans. Transmitter shall be programmed to AURA 2.0 following specifications. Transmitter shall be mounted with provided bracket.
Technical Information (TR-U100IVE and TR-D100IVE):
Dimensions: 3.5" x 1.7" x 0.9"
Power: 3.0V Lithium
Battery Replacement: Duracell DL123A lithium battery
Battery Life: 4-5 years
Operating Environment: 50-120°F Indoor Non-condensing
Get Help with System Design/Installation
Read More
Get the system you need.
Audio and visual nurse call systems for assisted living facilities, nursing homes, hospitals and outpatient medical clinics.
Order by Noon CST for same day shipping.
Traditional lights, buttons and pull cords or smartphone/WiFi integrated. Let us know what you're trying to do and we'll take care of you.
System Quote Get Help with System Design/Installation

1-800-558-8957