Get the system you need.
Audio and visual nurse call systems for assisted living facilities, nursing homes, hospitals and outpatient medical clinics.
Traditional lights, buttons and pull cords are smartphone/WiFi integrated. Let us know what you're trying to do and we'll take care of you.
Order by Noon CST for possible same day shipping*
*See Terms & Conditions
Need Some Assistance?
System Quote
System Design/Installation

1-800-558-8957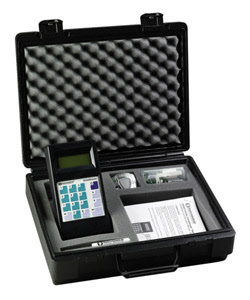 Description:
The WS-100E is a portable, easy-to-use kit allows you to take the guesswork out of your wireless bid with a quick and accurate to survey. You can easily determine if repeaters will be needed, and if so, determine the optimum location for each. Kit will survey up to 16 devices, providing real time survey information.
Operation:
Using this Cornell site survey tool you can see, hear, and demonstrate live range and performance of the wireless network at the actual installation location.
Included:
E. Accessory compartment-designed to store accessories such as battery charger or headphones.
Hand-held survey receiver with:

dedicated survey transmitter
menu-driven interface
Displays information on four-line backlit LCD display
Audible feedback with incoming received signals

Screwdrivers
Survey Pendant
Survey Transmitter
Accessory compartments – designed to store things such as a battery charger or headphones.
Technical Information:
Dimensions: 5.5" Diameter x 2.63"
Power: Uses 4 AA alkaline or rechargeable batteries
Operating Environment: 50-120°F Indoor Non-condensing
Frequency: 902 - 928 MHz