Get the system you need.
Audio and visual nurse call systems for assisted living facilities, nursing homes, hospitals and outpatient medical clinics.
Traditional lights, buttons and pull cords are smartphone/WiFi integrated. Let us know what you're trying to do and we'll take care of you.
Order by Noon CST for possible same day shipping*
*See Terms & Conditions
Need Some Assistance?
System Quote
System Design/Installation

1-800-558-8957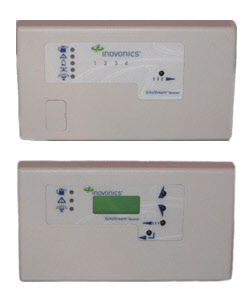 Receiver 4- or 16- Channel
Product ID:
RC-204DE-RC-216DE
Product SKU:
RC-204DE-RC-216DE
Call for pricing
(1-800-558-8957)
Call for Price
1-800-558-8957
Description:
The RC-204DE and RC-216DE receiver programs and supervises up to 4(RC-204DE) or 16(RC-216DE) transmitters. Outputs can be configured independently as latching, momentary, or toggle modes. The unit is case tamper resistant, includes jam detection, and houses internal antennas for security. Wireless programming routine is built into the receiver.
RC-204DE
LED allows the user to view the status of all four transmitters. Five form C relays for connecting to any panel: four alarms, one fault.
RC-216DE
Two-line text display shows the condition of each transmitter, provides log of past events, and displays signal strength Six form C relays for connecting to any panel: five alarm, one fault.
Operation:
When used with Cornell System, the receiver provides supervision of 4 or 16 transmitters respectively.
Mounting:
Includes mounting bracket for wall mounting
Engineering Specifications:
Contractor shall furnish, program and install Cornell wireless receiver Model RC-204DE or Model RC-216DE per specifications.
Technical Information:
Frequency: 902-928 MHz
Weight: 9.4oz
Dimensions: 6.5" x 3.5" x 1"
Outputs: RC-204DE: 4 alarm, 1 fault

RC-216DE: 5 alarm, 1 fault

Input Power: 10-14VDC
Maximum Current Consumption: 400mA
Transmitters Supported: 4(RC-204DE) or 16(RC-216DE)
Platform: EchoStream
Operating Environment: 32°-140°F (0°-60°C), 90% relative humidity, non-condensing