Get the system you need.
Audio and visual nurse call systems for assisted living facilities, nursing homes, hospitals and outpatient medical clinics.
Traditional lights, buttons and pull cords are smartphone/WiFi integrated. Let us know what you're trying to do and we'll take care of you.
Order by Noon CST for possible same day shipping*
*See Terms & Conditions
Need Some Assistance?
System Quote
System Design/Installation

1-800-558-8957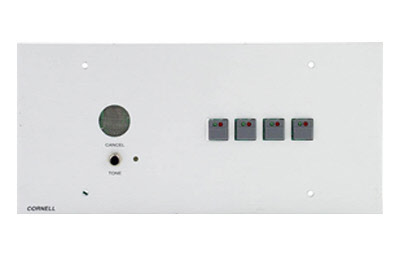 Description:
Controls - tone mute push button switch, accessible on faceplate. Volume control adjusted through the hole on faceplate. Push-push zone control switches. Anodized aluminum faceplate surface, flush, or desktop mountable available in multiples of four zones. For dimensions, see ordering information.
Operation:
To indicate the status of each door to be monitored, the solid-state A-1000 panel accommodates individual zone circuits with push switches and integral LED indicators, one red and one green for each zone. A steady green LED indicates unarmed status; steady red, armed status; flashing red and intermittent tone, alarm condition. Designation strips are provided for zone indications.
Options:
Optional Key Switch for panel control.
Mounting:
The anodized aluminum faceplate with silk-screened designations may be flush mounted, surface mounted, or desktop mounted with Cornell provided back box.
Engineering Specifications:
The contractor shall furnish and install a solid state CORNELL Series A-1000 Master Panel as shown on the plans. The surface, flush, or desktop mountable faceplate shall be made of anodized aluminum, and shall accommodate a specified number of zone circuits. Steady green LED shall indicate unarmed status; steady red, armed status; flashing red and intermittent tone, alarm condition. An alarm shall sound upon opening of any door in the armed status. Indicators shall be red and green LEDS; incandescent lamps are not acceptable. Each master panel shall utilize CORNELL modular zone cards (A-1211, screw terminal), with CMOS integrated circuits. The faceplate shall feature tone mute switch, volume control and zone switches. The panel shall operate on 12 volts DC regulated, with 36 mA per zone module. Field wiring terminals shall be to edge connector.
Technical Information:
Power Requirements: 12VDC
Operating Environment: 50-120°F Indoor Non-condensing
Mounting: Surface, Flush, or Desktop
Wiring: #22 AWG Minimum

Get Help with System Design/Installation