Get the system you need.
Audio and visual nurse call systems for assisted living facilities, nursing homes, hospitals and outpatient medical clinics.
Traditional lights, buttons and pull cords are smartphone/WiFi integrated. Let us know what you're trying to do and we'll take care of you.
Order by Noon CST for possible same day shipping*
*See Terms & Conditions
Need Some Assistance?
System Quote
System Design/Installation

1-800-558-8957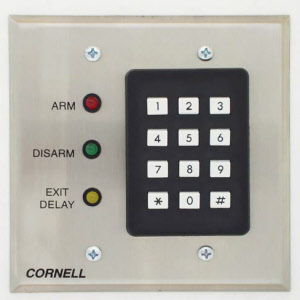 Keypad Station: Zone Control with Exit Time Delay on Two Gang Plate
Product ID:
A-1806-A-1808
Product SKU:
A-1806-A-1808
Call for Price
1-800-558-8957
Description:
Red LED -system armed; Green LED - system unarmed; Yellow LED - exit delay mode. Two gang satin stainless steel plate. Fits standard 2-gang electrical box.
Operation:
Model A-1806D (Arm, Disarm & Exit Delay) Enter the 1 to 6-digit access code. The yellow LED will flash 3 times. Press the * key to disarm the zone, the # key to arm the zone, or the 0 key to initiate time delay.
Model A-1808D (Exit Delay only) Enter the 1 to 6 digit access code and the 0 key to initiate the delay.
Optional:
Tone option available on 3 gang plate.
Mounting:
The satin finish stainless steel faceplate with silk-screened designations may be flush mounted on a standard outlet box with dual-gang plaster ring.
Engineering Specifications:
The contractor shall furnish and install a CORNELL remote zone control keypad. The faceplate shall be a standard two-gang stainless steel plate. The keypad shall be micro-controller based. The micro-controller shall have built-in watchdog timer. LED indicators (red, green, yellow) shall be utilized for long life; incandescent lamps are not acceptable. Unit shall be user programmable entirely from the keypad. Unit shall accept any 1-6 digit access code. Programming shall be preserved during power failure. Unit shall be operated on 12 VDC. Power consumption shall be less than 20mA.
Technical Information:
Power Requirements: 12VDC
Operating Environment: 50-120°F Indoor Non-condensing
Mounting: Surface, Flush, or Desktop
Wiring: #22 AWG Minimum
Get Help with System Design/Installation