Get the system you need.
Audio and visual nurse call systems for assisted living facilities, nursing homes, hospitals and outpatient medical clinics.
Traditional lights, buttons and pull cords are smartphone/WiFi integrated. Let us know what you're trying to do and we'll take care of you.
Order by Noon CST for possible same day shipping*
*See Terms & Conditions
Need Some Assistance?
System Quote
System Design/Installation

1-800-558-8957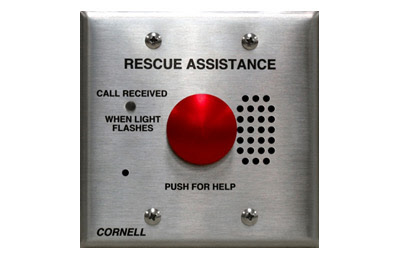 Call Station (For replacement only, 4800 series has been discontinued)
Call for Price
1-800-558-8957
Note: For replacement only. 4800 series has been discontinued.
Area of Rescue and Area of Refuge Call Station Panels
Description:
The Digital Area of Rescue/Refuge Assistance Call Station (4800V) will initiate a call at the Control Panel(s) when button is pressed. When not answered on site after a preprogrammed time has elapsed, the Main Panel will call off site to an emergency number of your choice.
Operation:
The 4800 series digital area of refuge system can support a total of 255 Call Stations. The Station will initiate an alarm at to the Control Panel(s) when the button is pressed.
Option:
The 4800V Call Station provides an auxiliary set of momentary form "C" contacts that can be used to activate external devices, such as a camera, strobe, or tone device. Please refer to the installation manual for more information on this option.
Mounting:
It is required that each Call Station should be mounted in a 4" Masonry Box, Raco #696 or equivalent, in a controlled indoor environment. Call Stations connect to a Control Panel or Expansion Switch using an RJ45 connector and Cat5E cable.
Engineering Specifications:
The contractor shall furnish and install the CORNELL 4800V Call Stations as indicated on the plans. Faceplates shall be satin-finish stainless steel with silk-screened designations. The activation button shall be via a large 1.5" Mushroom Pushbutton manufactured of heavy gauge plate material. Stations shall be mounted in 4" Masonry Boxes, Raco #696 or equivalent.
Technical Information:
Power Requirements: 24VDC
Operating Environment: 50-120°F Indoor Non-condensing
Physical Faceplate Dimensions: 4 ½ "H x 4 ½ "W (2 Gang)
Mounting: 4" Masonry Boxes, Raco #696 or equivalent
Wiring: Cat5e cable, Standard straight- thru, TIA/EIA 568A or TIA/EIA 568 B.2
Get Help with System Design/Installation