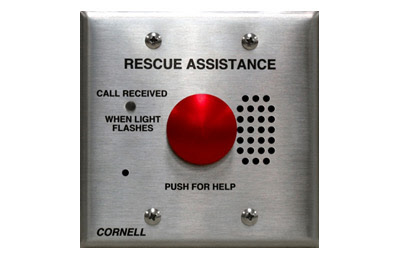 Call Station (For replacement only, 4800 series has been discontinued)
$495.00
$420.75
/each
(Online Price)
Note: For replacement only. 4800 series has been discontinued.
Area of Rescue and Area of Refuge Call Station Panels
Description:
The Digital Area of Rescue/Refuge Assistance Call Station (4800V) will initiate a call at the Control Panel(s) when button is pressed. When not answered on site after a preprogrammed time has elapsed, the Main Panel will call off site to an emergency number of your choice.
Operation:
The 4800 series digital area of refuge system can support a total of 255 Call Stations. The Station will initiate an alarm at to the Control Panel(s) when the button is pressed.
Option:
The 4800V Call Station provides an auxiliary set of momentary form "C" contacts that can be used to activate external devices, such as a camera, strobe, or tone device. Please refer to the installation manual for more information on this option.
Mounting:
It is required that each Call Station should be mounted in a 4" Masonry Box, Raco #696 or equivalent, in a controlled indoor environment. Call Stations connect to a Control Panel or Expansion Switch using an RJ45 connector and Cat5E cable.
Engineering Specifications:
The contractor shall furnish and install the CORNELL 4800V Call Stations as indicated on the plans. Faceplates shall be satin-finish stainless steel with silk-screened designations. The activation button shall be via a large 1.5" Mushroom Pushbutton manufactured of heavy gauge plate material. Stations shall be mounted in 4" Masonry Boxes, Raco #696 or equivalent.
Technical Information:
Power Requirements: 24VDC
Operating Environment: 50-120°F Indoor Non-condensing
Physical Faceplate Dimensions: 4 ½ "H x 4 ½ "W (2 Gang)
Mounting: 4" Masonry Boxes, Raco #696 or equivalent
Wiring: Cat5e cable, Standard straight- thru, TIA/EIA 568A or TIA/EIA 568 B.2
Get Help with System Design/Installation
Get the system you need.
Audio and visual nurse call systems for assisted living facilities, nursing homes, hospitals and outpatient medical clinics.
Traditional lights, buttons and pull cords are smartphone/WiFi integrated. Let us know what you're trying to do and we'll take care of you.
Order by Noon CST for possible same day shipping*
*See Terms & Conditions
System Quote
Get Help with System Design/Installation

1-800-558-8957