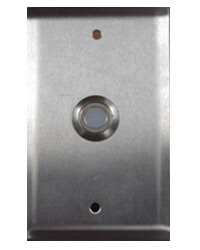 $102.00
$86.70
/each
(Online Price)
Description:
The (P-120) panic station features satin finished stainless steel faceplates.
Operation:
A call is placed by pressing the momentary button. Calls from the nurse call button must be reset remotely.
Mounting:
The satin finish stainless steel faceplate may be flush mounted on a standard outlet box with single-gang plaster ring, or surface mounted on a Wiremold 5748 or equivalent. Field wiring terminations are (2) 22 AWG wire leads connected to the N.O. contacts
Engineering Specifications:
The contractor shall furnish and install the CORNELL (P-120) panic station as indicated on the plans. Faceplates shall be satin-finish stainless steel and shall be mounted on standard outlet boxes with single-gang rings (minimum depth of 1¾ or Wiremold 5748 or equivalent.
Technical Information:
Operating Environment: 50-120°F Indoor Non-condensing
Physical Faceplate Dimensions: 4 ½ "H x 2 ¾ "W (Standard 1 Gang)
Mounting: Single-Gang back box with 1¾" minimum depth
Wiring: (2) #22 AWG 6" wire leads connected to the N.O. contacts
Read More
Get the system you need.
Audio and visual nurse call systems for assisted living facilities, nursing homes, hospitals and outpatient medical clinics.
Traditional lights, buttons and pull cords are smartphone/WiFi integrated. Let us know what you're trying to do and we'll take care of you.
Order by Noon CST for possible same day shipping*
*See Terms & Conditions
System Quote Get Help with System Design/Installation

1-800-558-8957