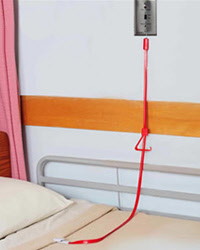 Sanitary Pull Cord (Pack of 5)
$125.00
$106.25
/each
(Online Price)
Description:
The sanitary pull cord (SP-ST) offers proactive prevention of facility acquired infection (in conjunction with good housekeeping practices), economic retrofit pull solution that is durable and quick to install, protects fixtures from over-force damage, and disinfected easily with standard cleaning procedures and disinfectants.
Operation:
When used with Cornell System, the sanitary pull cord retrofits to any pull cord station for an effective infectious control solution.
Options:
Easy to use pull hook (SP-HK) can be added to any sanitary pull cord.
Mounting:
See Cornell instructions on how to install the sanitary pull cord onto an existing pull cord station.
Engineering Specifications:
The contractor shall furnish and install the CORNELL sanitary pull cord SP-ST attaching to a pull cord station per specifications. Sanitary pull cords shall be disinfected per housekeeping policy.
Technical Information:
Dimensions: 12mm Wide, 6' Long
Material: Vinyl
Get the system you need.
Audio and visual nurse call systems for assisted living facilities, nursing homes, hospitals and outpatient medical clinics.
Traditional lights, buttons and pull cords are smartphone/WiFi integrated. Let us know what you're trying to do and we'll take care of you.
Order by Noon CST for possible same day shipping*
*See Terms & Conditions
System Quote
Get Help with System Design/Installation

1-800-558-8957