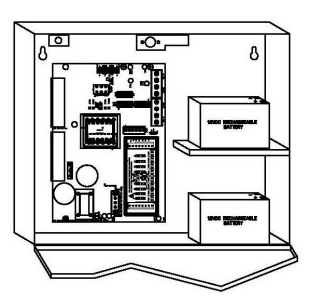 Power Supply with Battery Backup - 24 Volt, 8 AMP
$950.00
$807.50
/each
(Online Price)
Description:
The Cornell B-5248A is an 8 Amp, UL 1481 listed, FCC approved power supply.
Rated Output:
8 amp continuous supply current at 24 VDC. A voltage divider board provides 8 class 2 Positive Temperature Coefficient protected outputs.
Power:
115 VAC/60Hz, 5.0 Amp
Circuit Protection:
Short circuit and thermal overload protection.
Operation:
Provides 8 amps continuous supply current at 24VDC. Includes LED Indicator Diagnostics and (2) 12 Volt batteries for backup power. Multiple power supplies are required to accommodate systems with more then 50 Call Stations.
Mounting:
Slotted keyholes make it suitable for surface wall mounting.
Engineering Specifications:
The contractor shall furnish and install a CORNELL B-5248A Battery Backup Power Supply for use with the CORNELL 4800 Series System. The power supply shall operate at 115 Volts AC 60Hz. Enclosure shall be surface wall mounted, is provided with a cam lock for the door and the field wiring on the units shall utilize screw terminals.
Technical Information:
Input Power Requirements: 115VAC/60Hz, 5.0 amps
Operating Environment: 50-120°F Indoor Non-condensing
Physical Enclosure Dimensions: 15.75" H x 11.25" W x 4.5" D
Mounting: Surface mounted enclosure.
Wiring: #18 AWG Minimum
Battery Life: Average 5 year battery life
Get Help with System Design/Installation
Read More
Get the system you need.
Audio and visual nurse call systems for assisted living facilities, nursing homes, hospitals and outpatient medical clinics.
Order by Noon CST for same day shipping.
Traditional lights, buttons and pull cords or smartphone/WiFi integrated. Let us know what you're trying to do and we'll take care of you.
System Quote Get Help with System Design/Installation

1-800-558-8957