Get the system you need.
Audio and visual nurse call systems for assisted living facilities, nursing homes, hospitals and outpatient medical clinics.
Traditional lights, buttons and pull cords are smartphone/WiFi integrated. Let us know what you're trying to do and we'll take care of you.
Order by Noon CST for possible same day shipping*
*See Terms & Conditions
Need Some Assistance?
System Quote
System Design/Installation

1-800-558-8957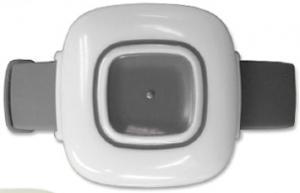 Description:
The TR-P100E single button; water resistant pendant is our smallest, lightest, and most versatile pendant. Weighing less than 1.4oz, it comes with a wristband for easy adjusting. With the single-button, one-second press and hold activation, and a compact design, it is ideal for assisted living installations. It features a fully supervised radio link to help ensure reliability. Wristband also available.
Operation:
When used with Cornell System, this wireless device provides immediate emergency call assistance.
Engineering Specifications:
The contractor shall furnish and provide the CORNELL TR-P100EW Wireless Mobile Transmitter as indicated on the plans. A 16mm silicone band with adjustable buckle shall be provided with the wireless pendant.
Technical Information:
Dimensions: 2.2" x 1.9" x 0.72"
Power: 3.0V Lithium
Battery Replacement: 3.0 volt Renata CR2450N lithium coin cell battery
Battery Life: Up to 1-2 years
Operating Environment: 50-120°F Indoor Non-condensing