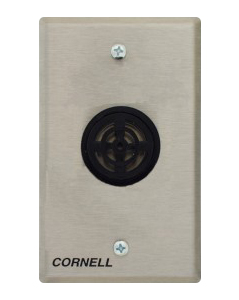 Alarm, Pulsing on a Single Gang Plate
$35.50
$30.18
/each
(Online Price)
Alarm, Pulsing on a Single Gang Plate
This pulsing nurse call system alarm is an emergency call system for nursing homes, assisted living centers, hospices and hospitals worldwide. This alarm emits a loud pulsing tone to alert health care staff of patients and residents in need of assistance. Nurse call system alarms are a crucial component to ensuring successful emergency communication in your healthcare facility. This emergency alarm can be used with any of our reliable nurse call systems including bed stations, clinic status systems and rescue assistance systems. The alarm sounds a pulsing tone to alert healthcare employees of an emergency call. Take action to increase communication in your facility with our top of the line nurse call systems and alarms.
Cornell Communications is a healthcare industry leader in nurse call systems and emergency communication device manufacturing. We utilize advanced technology to create the most reliable and longest lasting call systems on the market. Our nurse call systems are available at the most unbeatable prices on the market. Whether you need bedside stations or emergency call systems for your facility, we offer an extensive selection for everyone. Trust Cornell Communications to improve emergency communication in your healthcare organization.
Shop for the most reliable visual nurse call systems from Cornell Communications.
Read More
Get the system you need.
Audio and visual nurse call systems for assisted living facilities, nursing homes, hospitals and outpatient medical clinics.
Order by Noon CST for same day shipping.
Traditional lights, buttons and pull cords or smartphone/WiFi integrated. Let us know what you're trying to do and we'll take care of you.
System Quote Get Help with System Design/Installation

1-800-558-8957