Get the system you need.
Audio and visual nurse call systems for assisted living facilities, nursing homes, hospitals and outpatient medical clinics.
Traditional lights, buttons and pull cords are smartphone/WiFi integrated. Let us know what you're trying to do and we'll take care of you.
Order by Noon CST for possible same day shipping*
*See Terms & Conditions
Need Some Assistance?
System Quote
System Design/Installation

1-800-558-8957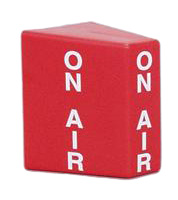 Corridor Light, One Lamp, screened On-Air in Red
Call for Price
1-800-558-8957
Limited Stock! Contact us for product information.

1-800-558-8957
Corridor Light, One Lamp, screened On-Air in Red
The L-101-ROA corridor light is an example of Cornell's silk screen printing capabilities on a red dome. Our silk screening can be customized to spell out any message, such as indicating a fire exit.
This L-101 ROA corridor light features the nationally recognized "On Air" phrase, alerting passing guests to not disturb the occupants of the room. This light features a single bulb and should be mounted on a single gang plate.
This light also features easy bulb maintenance. To change the light bulb, simply remove the outer plastic dome, which is easily done since it is attached to the back plate by slide-in steel pegs.
Cornell Communications is known throughout the country as premier nurse call system manufacturers. We consistently produce high quality call systems and alert lights, contributing to smooth internal operations. From emergency assistance products and visual nurse call systems in medical centers and assisted living facilities to schools and college campuses across the nation, rely on Cornell for dependable communication systems.
View our nurse call light systems from Cornell and increase your facility's response times today.
Get Help with System Design/Installation