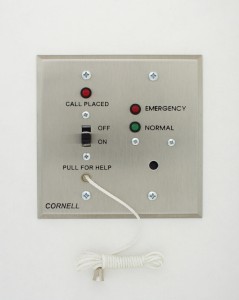 Staff Station, with E-104 and D-112 combined on Two Gang Plate
$183.50
$155.98
/each
(Online Price)
Staff Station, with E-104 and D-112 combined on Two Gang Plate
This S-112 Clinical Staff Station from Cornell indicates incoming calls using a tone and flashing LED light. The S-112 model features an adjustable tone option, which can be customized based on the priority level of the incoming call.
This nurse call station allows for one and two way communication.
A normal call will be characterized by a steady green LED and slow intermittent tones. Emergency calls will feature a flashing red LED with rapid tones. A priority call will feature a slower pulsing red light and corresponding pulsing tones.
To place a call, simply pull the cord to illuminate the call placed LED. To cancel a call, slide the switch to the off position. This S-112 Staff Station features a stainless steel faceplate with a satin finish and silk-screened designations. It is designed to fit on standard two-gang plaster rings or a Wiremold 5748-2 surface box, or equivalent.
Since the 1970s, Cornell has been providing hospitals and healthcare facilities with comprehensive emergency response systems and visual nurse call stations. Our call systems increase response time to emergency situations, while improving daily operations. This staff station allows for prompt, easy communication with necessary personnel.
Browse all nurse call stations available from Cornell Communications today.
Read More
Get the system you need.
Audio and visual nurse call systems for assisted living facilities, nursing homes, hospitals and outpatient medical clinics.
Order by Noon CST for same day shipping.
Traditional lights, buttons and pull cords or smartphone/WiFi integrated. Let us know what you're trying to do and we'll take care of you.
System Quote Get Help with System Design/Installation

1-800-558-8957