Area of Refuge Requirements in Washington D.C
Emergency Call Systems >> Area of Refuge Systems >> Area of Refuge Requirements >> District of Columbia
---
Does your Washington D.C Building Meet Local Area of Refuge Requirements?
District of Columbia functions as its own individual state, much like surrounding states Virginia and Maryland. Thus, it has it's own set of local requirements that firms must follow to save themselves from hefty fines and legal time. When building facilities, firms must follow certain requirements of area of refuge building to pass local codes. District of Columbia, otherwise known as Washington D.C, abides by distinct Uniform Building Codes, which are based on the 2012 International Building Code (IBC), with slight differences to accommodate area-specific regulations. Be sure to check your local codes before building any structure in Washington D.C to ensure you're abiding by local laws and regulations.
When is an Area of Refuge Required in Washington D.C?
Area of refuge (or area of rescue assistance) systems in Washington D.C are required in all multi-story facilities, according to IBC Section 1007A. Areas requiring accessible means of egress, thus areas of refuge, include:
Building WITHOUT automatic sprinkler systems throughout
Assisted living facilities
Healthcare facilities
Hotels & Motels (Transient)
Group I-2 Buildings
Group I-3 Buildings
Group M Buildings
Washington D.C does not require areas of refuge in buildings with automatic sprinkler systems throughout in accordance with Section 903.3.1(2), at stairways serving open parking garages, or smoke protected seating areas in compliance with Section 1025.6.2.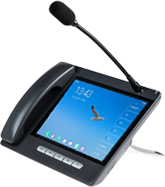 Area of Refuge Communication Requirements in Washington D.C
Washington D.C requires all areas of refuge to have a two-way communication system complying with Sections 1007.8.1 and 1007.8.2. A two-way communication system, like Cornell's 4800 Series Area of Rescue Assistance System, shall provide communication between each required location and the fire command center (or center control point location approved by the local fire department).
The two-way communication system will include both audible and visual signals.
Are of Refuge Signage Requirements in Washington D.C
Washington D.C local code requires that buildings provide posted signs indicating areas of refuge. Signage shall include, in accordance with Section A117.1: visual characters and the International Symbol of Accessibility.
Where exit signs are required to be illuminated, that area of refuge sign shall also be illuminated.
Signage indicating special accessibility shall follow:
All doors providing access to an area of refuge from an adjacent floor area shall be identified by a sign stating: AREA OF REFUGE
All doors providing access to an exterior area for assited rescue shall be identified by a sign stating: EXTERIOR AREA FOR ASSISTED RESCUE
Design an Area of Refuge System for your District of Columbia Building
If you're still wondering what you need, don't worry—Cornell is here to help. We're an industry leader in area of rescue systems, nurse call systems, and other hyper-specific communication systems for facilities around the world. Get a quote on a 4800 series area of refuge system or contact a Cornell representative for more information on requirements in your area.
Contact Cornell today for more information on D.C building code requirements.