System Comparison
Emergency Call Systems >> Emergency Call System Comparison
---
All Cornell Nurse Call Systems
Every assisted living or healthcare facility is different, and we're here to help. Cornell Communications offers a variety of different emergency call systems to best fit your needs and to best fulfill the needs of your residents. We outline our line of communication systems so you can design the perfect emergency call system for your facility.
With door monitoring, area of rescue, and nurse call systems available, you can design the right system for your new or existing medical facility. Pick the features of our systems that best match what you need and we'll handle the rest. It starts with just one question:
How will you connect people with care?
Area of Rescue Assistance SystemsWireless Nurse Call SystemsVisual Nurse Call SystemsDoor Monitoring Systems
Already Know What System You Need?
Rescue Assistance Call Systems
4200 Series Analog Rescue Assistance System
The 4200 Series Analog Rescue Assistance System has received wide industry acceptance. With the push of a button in an Area of Rescue, a text message is sent to the lobby of the building or to 911. The system includes the following:
Annunciator Panel: Allows for voice communication with call stations. Annunciator will sound an alarm and illuminate a yellow LED in the event of a wiring fault that requires service.
Area of Rescue Call Stations: Wall panels include a call button. Vandal resistant design with optional tamper proof screws.
Available in standard sizes to 44 zones
4800 Series Digital Area of Rescue System with Offsite Communication
The 4800 Series Digital Area of Rescue System is similar to the 4200 system with the addition of two-way voice communication with emergency personnel. It includes the following:
Main Control Panel: Allows fully supervised two-way voice communication with each Call Station. 40-character LCD four line display shows activated Call Station locations and system fault information.
Optional: Remote Control Panel: Up to 4 Remote Control Panels can be installed throughout the building to allow locations other than the Main Control Panel to respond to a call for assistance
Area of Rescue Call Stations: Wall panels include a call button and speaker to communicate with control panel operator. Each Call Station can activate external devices, such as cameras, strobes, or tone devices.
System continuously supervises all Call Stations and Control Panels to identify faults and defective equipment.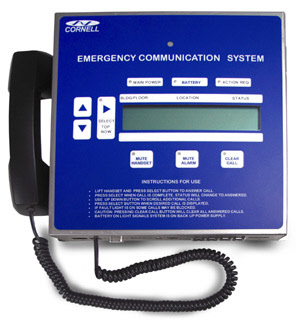 Wireless Nurse Call Systems
IndePendent Emergency Wireless Nurse Call Communication System
The IndePendent emergency nurse call system combines wired and wireless technologies to meet the needs of senior healthcare facilities and schools. Residents can wear wireless pendants to call for help wherever they are, and nursing staff is notified via pocket pager or smart phone.
The IndePendent software system monitors bed stations, bath stations, pendants, or other devices for alerts or calls. It then documents and logs staff response times and notifies staff or responders via desktop screen, e-mail, text, or pager. Comparing your employee or shift response times can establish a metric for improving the quality of care offered by your institution.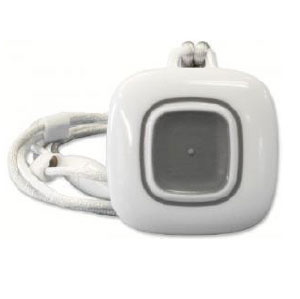 In

form

TM I A Mobile Wireless Nurse Call System
InformTM IA Mobile's emergency communication system
is a user-friendly mobile communication system providing the families of patients with real-time updates on the care of their loved ones delivered right to their smart phones.
inform
shows users the following information:
From which resident, where, and when a call came
Which staff member took the call and when
The travel time and time spent with each resident
What each staff member did with a resident
Comparing and contrasting response time with Inform improves staff accountability, response time, and the satisfaction of residents, family, and staff.
Visual Nurse Call Systems
4000 Series Visual Nurse Call System
The 4000 Series Visual Nurse Call System is one of the most widely used in the healthcare profession. It is ideal for upgrading communication systems in older institutions. Simply put, this visual nurse call system alerts staff to patient calls using lights and buzzers, without voice communication.
The 4000 Series includes the following:
Annunciator: Alerts staff to incoming calls with an LED indicator and a pleasant tone. Available with 10 to 300 indicator lamps.
Bedside Stations: Three standard designs include a single call cord jack, two call cord jacks, or a push button to place a call. Each design has an LED indicator light and a call cancel button.
Emergency Stations: Used in locations requiring immediate action. Different designs feature either a nylon pull cord or a push button to place an emergency call.
Duty Stations: Utilized any place staff needs to be alerted to a call. Green or red LEDs and a tone indicate a call.
Staff Stations: Used to indicate the status of the call system, like a Duty Station, and includes an emergency pull cord, like an Emergency Station.
Control Module: Offers audible and visual notification at all Duty Stations and at the Annunciator panel whenever a call is placed. Indicates three levels of priority with beeps and steady or flashing indicator lights.
Corridor Lights: Indicate the location of a call in a room, zone, or area.
Paging: Direct messaging to correspond with staff in emergencies.
Automatic Documentation and Recordkeeping: Generates and stores a permanent record of all monitoring and alerting activity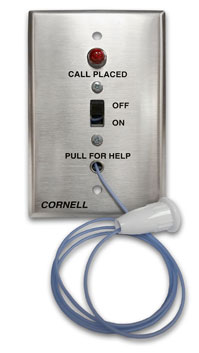 Door Monitor System
Series 1000 Door Monitor System
The Series 1000 Door Monitor System improves security in hospitals, assisted living centers, and hospices and provides wander management for Alzheimer's and other memory care facilities. This emergency communication device warns when an unauthorized individual opens a door or window, similar to a security system.
Series 1000 Door Monitor System includes the following:
Master Panel: Constantly controls and monitors each door in the system.
Optional: Remote Control and Monitoring Panels: Complement main panels. Easy to transfer exclusive control of all doors from Master Panel to Remote Panels.
Remote Zone Keypad Stations: Provide full security to off limits areas while allowing quick access to authorized personnel
Still not sure what you need?