4200 Analog Emergency Communication System for Area of Rescue
ADA Area of Rescue Assistance Call Systems for Emergency Communication in Hospitals and Other Medical Facilities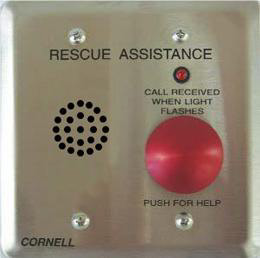 The Americans with Disabilities Act (ADA) requires an Area of Refuge system in all newly constructed multi-story commercial and public buildings. The system must provide a means to request evacuation assistance in emergencies. The ADA requirements also apply to significant renovations of existing multi-story facilities. Exact requirements may vary depending on local construction regulations, any sprinkler system in place, and the type of building.
Cornell's Area of Refuge and Area of Rescue Assistance systems allow you to meet all the necessary requirements for the safety of patients, residents and staff in an emergency, such as evacuation for a fire. Our 4200 Area of Refuge call stations allow patients to call for help and receive instructions in an emergency situation. Knowing where they are also helps rescue personnel find them more quickly.
Emergency Call System Solution
The 4200 Series Audio Rescue Assistance System is time proven in the field and has received industry-wide acceptance. The system includes voice communication, which is initiated by simply depressing the call station button. The signal is transmitted to a central annunciator panel with optional access to a public telephone line. A single pulse tone and a flashing light signals the caller that the alarm has been received. The control station can then talk to the caller over the intercom. The caller need not take any other action to communicate with the control station, an important feature when a caller is under stress in an emergency situation.
When Two-Way Offsite Communication is Required
The 4200 area of refuge system allows easy communication between an emergency intercom call station and a main control panel. Upgrade to the 4800 area of refuge phone system for the ability to call emergency responders directly when onsite rescue assistance is not available. Two-way voice communication allows those waiting for help to give information to rescue personnel and receive instructions.
Area of Refuge or Rescue Assistance System Features
Improved Surface Finish: Our new self-cleaning ceramic polymer coating preserves and protects the annunciator surface finish.
Larger Sizes Available: Now available in standard sizes to 44 zones. Call factory for larger applications.
Area of Refuge system annunciator panels (also called control stations or master panels) with 4 to 28 zones make them ideal for any size facility. Choose the model with the number of zones your hospital, outpatient clinic, assisted living facility, or other building needs to meet rescue assistance requirements and keep your patients and residents safe.
Versatile, Dependable Rescue Assistance Communication
How It Works: The control station operator, on receiving a call station signal, activates a zone switch that illuminates both a flashing red LED and a green "voice" LED. By depressing and releasing the "talk" button, voice communication is established for as long as required. Upon completion, the appropriate zone button is depressed again; however, the flashing red light continues. If more than one zone is signaling, the control station accepts the calls in the same manner. When the emergency is resolved, the control station operator pushes a reset switch that restores the entire system to stand-by status. In the event of a wiring fault, each annunciator zone is equipped with a yellow LED that will illuminate and an alarm will sound identifying the area requiring service.
Vandal-Resistant and Weather-Resistant Area of Rescue Call Systems
Cornell Communications now offers vandal-resistant area of refuge call stations for false alarm prevention and weather-resistant call stations for outdoor use. The design offers heavy duty switches and speakers along with heavy gauge stainless steel plates and Phillips screws. Tamper-proof screws are available for purchase along with the tool to install them if required.
Area of Refuge Lighted/Illuminated Signage
Cornell Communications offers a complete line of Rescue Assistance Signage. This includes powered, illuminated signs with battery back-up and our RADIANCE™ photoluminescent room identification signs, as well as direction and location signs. These signs meet all ADA requirements and specifications for use with Areas of Rescue Assistance.
Contact the area of refuge specialists at Cornell Communications now for more information on our wide selection of Area of Rescue systems, including our 4800 Digital Area of Rescue System.