Weather Resistant Area of Rescue Call Stations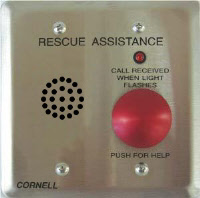 Area of Refuge Panels Designed for Outdoor Placement
We know you rely on our Area of Rescue Assistance Systems, so we thought you might be interested in our new Weather Resistant Call station that is rated for outdoor locations.

Vandal Resistant Weatherproof Station Model 4202 Area of Refuge Benefits
The Cornell Vandal Resistant Area of Rescue System with Mushroom Switch Call station includes:
One momentary mushroom switch for easy access to call for assistance.
An audible alarm device with sound level minimum of 70db at 30cm.
Reinforced stainless steel plate for maximum durability.
An LED to indicate a placed call.

ADA Approved Outdoor Station Locations:
Parking Garage
Exterior Balcony
Or any other exterior Emergency Location as indicated by the plans
Contact the area of refuge system manufacturers at Cornell Communications today for more information on our weather and vandal resistant emergency communication panels.