Area of Refuge and Area of Rescue Systems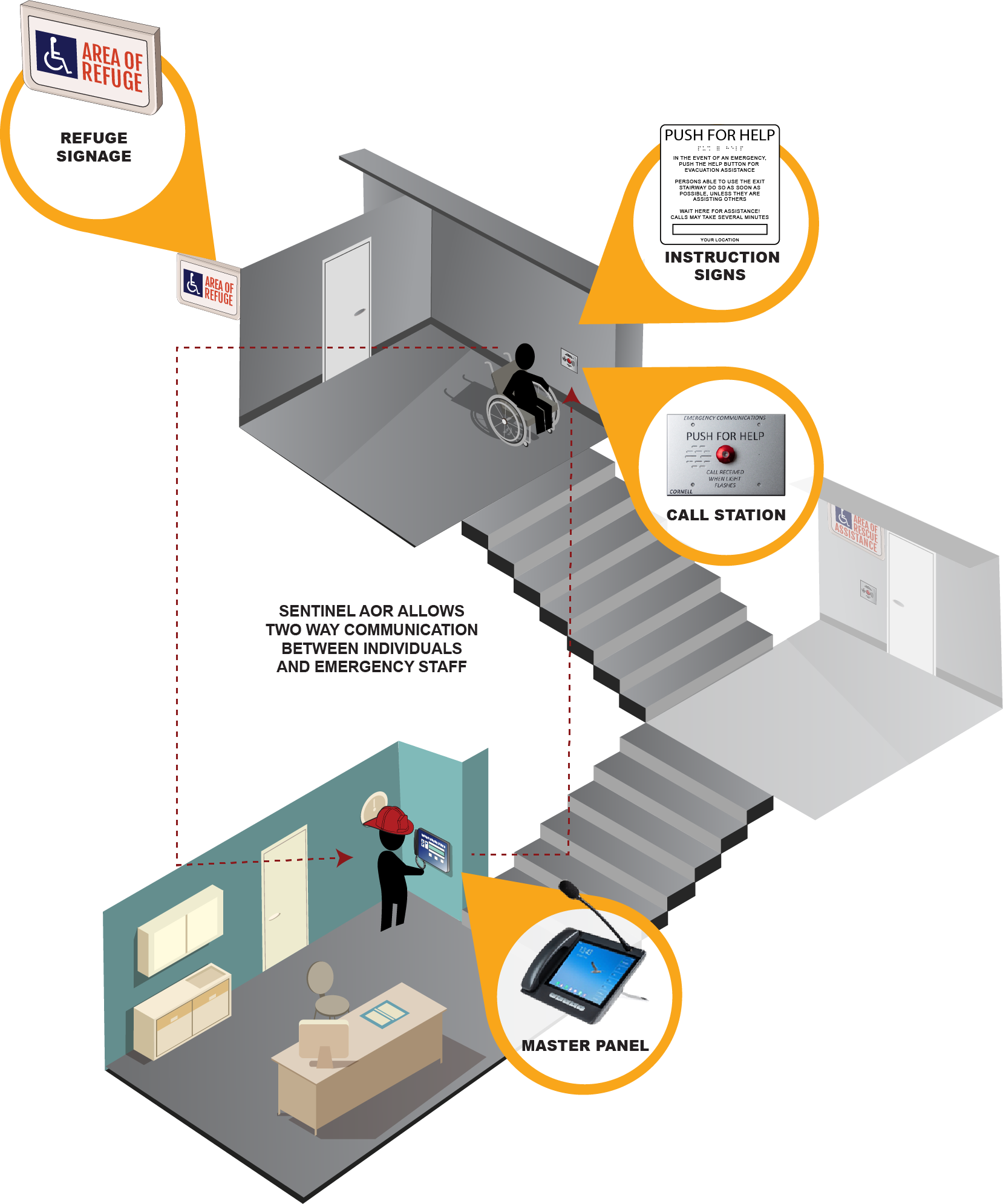 Emergency Assistance Communication Equipment for Commercial Buildings, Schools, and Parking Facilities
During an emergency situation, possessing a reliable and instantaneous communication tool can mean the difference between safety and life-threatening danger. Cornell Communications, your number one provider of high-quality emergency communication systems, is proud to offer our full line of Area of Rescue and Emergency Assistance communication systems, perfectly suited for any building with multiple floors and staircases.
ADA Area of Rescue Communication Systems
Thanks to the Americans with Disabilities Act (ADA), Area of Rescue or Area of Refuge emergency communication systems are now mandatory for all multistory structures and newly constructed buildings. This rescue assistance requirement makes it easier for disabled persons to communicate quickly and efficiently when they require quick and reliable assistance in an emergency situation. With Area of Rescue systems, hands-free intercoms are placed in stairwells and close to elevators so disabled persons can quickly and easily request assistance during an emergency situation where help isn't immediately available. The high-quality Area of Rescue systems available from Cornell Communications can also be utilized outdoors in parking structures and underground garages.
See Area of Rescue SystemsDigital SystemAnalog System
2-Way Communication for Area of Refuge Systems
Onsite and Offsite Emergency Communication Capabilities
Cornell Communications offers two different Area of Rescue systems for our customers. Our 4200 Series Audio Rescue Assistance system is designed for locations with a response staff available 24/7. This system routes all calls to one main communication station, where a responder can communicate directly with the person on the other end.
In situations where an emergency response staff isn't present, customers can rely on the Cornell Communications 4800 Series Digital Rescue Assistance system. This Area of Rescue emergency communication system routes calls directly to local emergency responders, such as fire departments and police stations when assistance is not available on-site.
Contact Cornell Communications for more information about our top-quality medical communication systems, Area of Rescue systems, assisted living and nursing home monitoring equipment, and wireless emergency response systems.