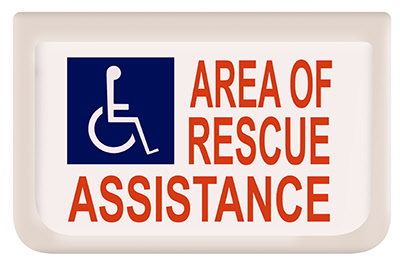 Sign, Electric, Rescue Assist, 2 Sides
$250.00
$212.50
/each
(Online Price)
Sign, Electric, Rescue Assist, 2 Sides
This double sided SN-E42D Area of Rescue Assistance Sign features a prominent arrow and photoluminescent technology to help responders quickly and effectively locate patients who have limited mobility. Cornell's line of RADIANCE ARA Signs utilizes photoluminescent technology, which absorbs and stores energy from normal indoor lighting. In the event of an emergency or power outage, the sign glows for up to 60 minutes. All RADIANCE Signs meet national building codes, and comply with NFPA Life Safety Code 101. This double sided area of rescue assistance sign can be mounted on a ceiling (top) or wall (back or side).
The SN-E42D RADIANCE Sign provides an innovative, effective solution for assisted living facilities and skilled care centers in the case of an emergency situation or power outage. Having an area of rescue assistance sign will make patients with limited mobility feel safer, knowing they will be able to be easily located in case of an emergency. Trust Cornell Communications to provide your facility with inventive, time saving visual call systems.
SN-B42S (Battery Backup, 1 Side)
SN-B42D (Battery Backup, 2 Sides)
SN-B42SM (Battery Backup, 1 Side, Metal Version)
SN-B42DM (Battery Backup, 2 Sides, Metal Version)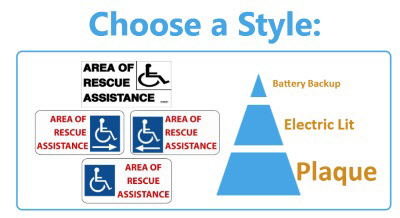 Browse all visual emergency call systems to begin increasing response time in your facility today.
Read More
Get the system you need.
Audio and visual nurse call systems for assisted living facilities, nursing homes, hospitals and outpatient medical clinics.
Order by Noon CST for same day shipping.
Traditional lights, buttons and pull cords or smartphone/WiFi integrated. Let us know what you're trying to do and we'll take care of you.
System Quote Get Help with System Design/Installation

1-800-558-8957