Get the system you need.
Audio and visual nurse call systems for assisted living facilities, nursing homes, hospitals and outpatient medical clinics.
Traditional lights, buttons and pull cords are smartphone/WiFi integrated. Let us know what you're trying to do and we'll take care of you.
Order by Noon CST for possible same day shipping*
*See Terms & Conditions
Need Some Assistance?
System Quote
System Design/Installation

1-800-558-8957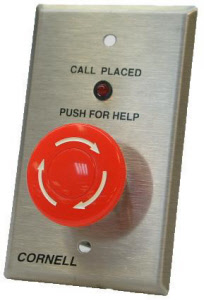 Emergency Station Push On/Twist Off
Online Price:

$163.20

/each

$192.00
Mushroom Head Nurse Call Button and Call Placed Light
Our emergency nurse call systems enable easy communication between residents and their caregivers. To place a call, residents push the button and a red LED light lets the resident know the call has been placed and help is on the way. Once activated, associated corridor lights flash, indicating which room requires assistance. Residents or caregivers may twist the button to turn off or cancel the call. Our emergency stations are ideal for assisted living centers, nursing homes and senior care communities.
Description:
E-108A Emergency stations are designed for situations where the call for assistance must remain activated. This station features a single-gang stainless steel face plate with silk-screened designations. The E-108A has a "Mushroom" push-button with mechanical latching. Push on/twist off. They may be flush mounted on standard outlet boxes with single-gang rings, or surface mounted on Wire mold 5748 or equal with a depth requirement of 1 ¾". The activator is oil tight. Momentary switching is available.
Operation:
Pushing the button on the E-108A activates a call for help confirmed by a red LED. To cancel the call requires the twist of the push-button to the right.
Mounting:
The satin finish stainless steel face plate with silk-screened designations may be flush mounted on a standard outlet box with single-gang plaster ring, or surface mounted on a Wire mold 5748 or equivalent.
Engineering Specifications:
The contractor shall furnish and install the CORNELL E-108A Emergency Station as indicated on the plans. Face plate shall be brushed stainless steel, with epoxy silk-screened designations. "Mushroom" button shall be minimum of 1½" in diameter. Call indicator shall be a red light emitting diode. The Emergency Station shall fit on a standard single gang plaster ring or Wire mold 5748 (for surface mounting) or equal. Minimum depth shall be 1 ¾".
Technical Information:
Power Requirements: 24VDC
Operating Environment: 50-120°F Indoor Non-condensing
Physical Faceplate Dimensions: 4 ½ "H x 2 ¾ "W (1 Gang)
Mounting: Single-Gang back box with 1¾" minimum depth
Wiring: #22 AWG Minimum
Nurse Call Button Improves Response Time
Nurse call buttons, like this Emergency Station and other push button station components, provide a fast and simple way for residents to signal their caretakers when they need assistance. Whether the resident has an emergency or is simply uncomfortable, they can summon their staff with the push of a button and have what they need in minutes. With clear and convenient corridor lights announcing which room signaled for help, staff can easily attend to the resident's needs. Nurse call buttons from Cornell Communications ensure fast response times for your loved ones in nursing homes, assisted living facilities and more.
Browse all nurse call system replacement parts from Cornell Communications for reliable communication devices for your healthcare facility.
Download Brochure & Wiring Diagram