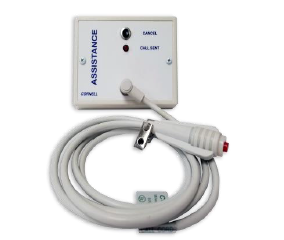 Wireless Bed Station
Product SKU:
TR-ST100BE2S
Call for pricing
(1-800-558-8957)
TR-ST100BE2S Wireless Bed Station
The TR-ST100BE2S is a surface mounted bed station with a six foot call cord. A reset switch is located on the front and the call can only be reset at the station. A red LED indicates a call has been placed. Removal of the call cord plug from station also initiates a call. Included are two 3.0V Lithium batteries.
Engineering Specifications:
Model: TR-ST100BE2S
Dimensions: 5.25" x 4.0" x 1.25"
Power: Two 3.0V Lithium Batteries
Battery Replacement: Duracell DL123A lithium battery
Battery Life: 1-3 years, depending on use
Operating Environment: 50-120F Indor Non-condensing
Get Help with System Design/Installation
Read More
Get the system you need.
Audio and visual nurse call systems for assisted living facilities, nursing homes, hospitals and outpatient medical clinics.
Traditional lights, buttons and pull cords are smartphone/WiFi integrated. Let us know what you're trying to do and we'll take care of you.
Order by Noon CST for possible same day shipping*
*See Terms & Conditions
System Quote Get Help with System Design/Installation

1-800-558-8957