Get the system you need.
Audio and visual nurse call systems for assisted living facilities, nursing homes, hospitals and outpatient medical clinics.
Traditional lights, buttons and pull cords are smartphone/WiFi integrated. Let us know what you're trying to do and we'll take care of you.
Order by Noon CST for possible same day shipping*
*See Terms & Conditions
Need Some Assistance?
System Quote
System Design/Installation

1-800-558-8957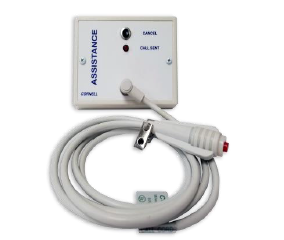 Wireless Bed Station
Product SKU:
TR-ST100BE2S
Call for Price
1-800-558-8957
One-Jack, Wireless Bed Station
The TR-ST100BE2S is a surface mounted bed station with a six foot call cord. A reset switch is located on the front and the call can only be reset at the station. A red LED indicates a call has been placed. Removal of the call cord plug from station also initiates a call. Included are two 3.0V Lithium batteries.
Description:
The TR-ST100BE2S is a Wireless Bedside Station equipped with one jack for use with Cornell Call Cords.
Operation:
A red LED indicates calls placed when the button at the end of the call cord is pushed. Calls may be cancelled at the touch of a button located on the call station. Removal of call cord plug from station also indicates a call.
Mounting:
Wireless bedside station may be mounted anywhere within the wireless range, see specifications for specific mounting location. The hardware package includes (2) self-tapping #6 drywall anchors and screws.
Engineering Specifications:
The contractor shall furnish and install Cornell Bedside Stations as indicated on the plans. The stations shall be equipped with 1 jack for use with Cornell Bed Cords, and with red LED call placed indicators and cancel switch. Indicator voltage shall be supplied by an internal battery.
Technical Information:
Dimensions: 5.25" x 4.0" x 1.25"
Power: Two 3.0V Lithium Batteries
Battery Replacement: Duracell DL123A lithium battery
Battery Life: 1-3 years, depending on use
Operating Environment: 50-120F Indor Non-condensing
Plastic molded housing has durable Lexan overlay designations clearly marked
Call Cord sold separately
Optional Call Cords:
Get in touch with Cornell for more information or help building your healthcare facility's emergency response system.