Get the system you need.
Audio and visual nurse call systems for assisted living facilities, nursing homes, hospitals and outpatient medical clinics.
Traditional lights, buttons and pull cords are smartphone/WiFi integrated. Let us know what you're trying to do and we'll take care of you.
Order by Noon CST for possible same day shipping*
*See Terms & Conditions
Need Some Assistance?
System Quote
System Design/Installation

1-800-558-8957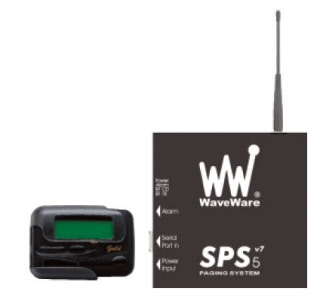 Engineering Specifications:
2 Watts or 5 Watts
Synthesized Frequency
TAP, COMP1, COMP2 Interface Protocols
POCSAG Encoding
VHF/UHF
The alphanumeric Paging System allows you to automatically transmit messages to industry standard on-site pagers, with no monthly paging service fees. You own all of the equipment. Text, numeric and tone/vibrate messages can be immediately delivered to industry standard POCSAG pagers. For use with VersaPage emergency paging system.
Special Features:
Supports TAP, COMP1, COMP2 and WaveWare proprietay interface protocols, via DOP switch selection.
Compatible with industry standard POCSAG pagers
Supports POCSAG alphanumeric, numeric and tone/vibe messagingin at RF data rates of 512, 1200 and 2400 bps
Available as VHF model (148-174 MHz) or UHF models (400-430MHz and 440-470 MHz)
Supports TAP interface protocol v1.8, with enhancements including control character embedding, extended pager ID processing, and function code control
Programmable EEPROM based pager database using Windows based programming software (included with system). Pager database can be bypassed using unique extended pager ID formatting methods.
Programmable single wet contact triggered transmission of a predefined message
Programmable host system monitoring function, using timer triggered transmission of a predefined message if host system communications don't occur for two minutes
Programmable operating frequency (Requires optional radio programming kit)
Pagers, amplification kits, and FCC site licensing services also available.
Transmitter Features:
Economical, eliminates wide area paging service fees
Long range campus wide coverage (5 watt system provides up to 3 mile coverage, depending upon local conditions)
Programmable operating frequency, using optional radio programming kit
Supports alphanumeric, numeric, and tone/vibe messages
Supports paging RF data rates of 512, 1200, and 2400 bps, with data rate, auto switching
Industry compatibility using the TAP protocol serial data interface
Pager database can be programmed into on-board EEPROM using Windows based programming software, included with each system. System can operate without onboard pager
Database using Extended Pager ID formatting method.
Shared Use FCC Site Licensing available with certain models
Amplification kits available for output of 25, 50, and 100 watts
Extension compatible
10 personal slots
Duplicate message detection
Unread message display
Message time stamp
Month, date, year, time display
Selective message lock/delete
Lithium battery backup
Reminder alert
Up to 6 cap code capability
Contact the medical pager product suppliers at Cornell Communications today for more information on our excellent emergency communication systems.