Get the system you need.
Audio and visual nurse call systems for assisted living facilities, nursing homes, hospitals and outpatient medical clinics.
Traditional lights, buttons and pull cords are smartphone/WiFi integrated. Let us know what you're trying to do and we'll take care of you.
Order by Noon CST for possible same day shipping*
*See Terms & Conditions
Need Some Assistance?
System Quote
System Design/Installation

1-800-558-8957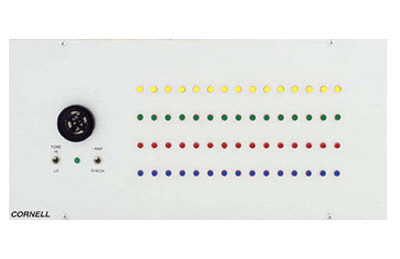 Description:
Series 2000 Annunciator panels provide clear indication of all incoming calls. Anodized aluminum finish. Surface or flush mountable. 10, 15 or 25 LED indicators per row are provided for visual alert; an electronic tone, for audible alert. Two tone board operations are available: the (TG) for single status and the (AT) for dual or triple status systems.
Operation:
When an associated station is activated, the LED will illuminate. Panel also includes a Hi-lo tone switch and lamp check switch for optimum operations. Power indicator included on dual status panels.
Options:
Tone Options:Two options are available, one for single status and another for multiple status systems.
Custom Sizes:Call factory for custom sizes to be manufactured to your specifications.
Custom Colors:LEDs are available in Red, Green, Yellow, Amber, and Blue.
Mounting:
Available in flush wall-mounted or optional oak finished surface or sloping desktop enclosures.
WE - wall enclosure for surface mounting.
SE - sloping enclosure for desk top mounting.
Engineering Specifications:
The contractor shall furnish and install the CORNELL A-2000/XX series annunciator panel. The faceplate shall be made of anodized aluminum and provide designation strips. Indicators shall be light emitting diodes (LEDs); incandescent lamps are not acceptable. The faceplate shall feature hi-lo tone switch and lamp test switch. LED power indicator provided on the dual status panels. The unit shall be (surface) (flush) mounted. The tone options shall be (single) (dual) or (triple).
Technical Information:
Power Requirements: 24VDC
Operating Environment: 50-120°F Indoor Non-condensing
Physical Dimensions: See Back
Mounting: See Back
Wiring: #22 AWG Minimum, #18 AWG Minimum for power
Get Help with System Design/Installation