Get the system you need.
Audio and visual nurse call systems for assisted living facilities, nursing homes, hospitals and outpatient medical clinics.
Traditional lights, buttons and pull cords are smartphone/WiFi integrated. Let us know what you're trying to do and we'll take care of you.
Order by Noon CST for possible same day shipping*
*See Terms & Conditions
Need Some Assistance?
System Quote
System Design/Installation

1-800-558-8957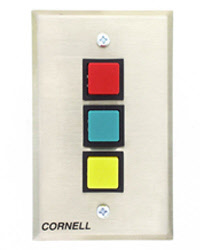 Description:
Cornell's S Series Status Station offers 1-6 colors (Red, Green, Blue, Amber, Yellow, or White) to indicate the different status options. Stations can be equipped with momentary (Push-On, Springs Back) or Alternate Action (Push On, Push Off) switches.
Related products:
Operation:
The station will control the room designated by the plans. Momentary stations must be wired to a latching annunciator in order to stay on once the button is released. Alternate action stations will turn the designation on when pressed once, and off when pressed again.
Mounting:
The satin finish stainless steel faceplate with silk-screened designations may be flush mounted on a standard outlet box with single-gang plaster ring, or surface mounted on a Wiremold 5748 or equivalent.
Engineering Specifications:
The contractor shall furnish and install Cornell's S Series Room Status Stations at the noted locations for use as zone control. Faceplates shall be satin-finish stainless steel. Indicator lamps shall be specified colors to coincide with the facility's indication needs. For flush mounting, back box shall be standard outlet box with single-gang plaster ring; for surface mounting, Wiremold 5748 or equivalent.
Technical Information:
Power Requirements: 24VDC
Operating Environment: 50-120°F (0-60°C) Indoor Non-condensing
Physical Faceplate Dimensions: 4 ½ "H x 2 ¾ "W (1 Gang)
Mounting: Single-Gang back box
Wiring: Minimum 22AWG
Get Help with System Design/Installation