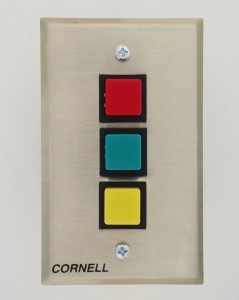 Status Switch, Three Push Button Switches on Single Gang Plate
Call for pricing
(1-800-558-8957)
Status Switch, Three Push Button Switches on Single Gang Plate
Cornell Communications is the premier nurse call system manufacturer. Our light status systems enable easy communication within healthcare settings to ensure emergencies are quickly taken care of.
Our clinic status systems are commonly utilized in hospitals, nursing homes, senior care centers and veterinary facilities.
This light system includes three different colored lights, each intended to convey a different status. Specify which colors you would like when ordering.
This device visually informs hospital employees whether rooms are vacant, occupied, or in need of assistance.
We offer a variety of signaling options to let you control the signal lamp from multiple rooms. Customize light flashing patterns, such as on/off, slow flash or rapid flash for different patient needs. With our clinic status system, patient-caregiver communication will become more streamlined and easier to document.
Browse clinic status systems from Cornell Communications for high quality healthcare facility communication devices.
Get the system you need.
Audio and visual nurse call systems for assisted living facilities, nursing homes, hospitals and outpatient medical clinics.
Traditional lights, buttons and pull cords are smartphone/WiFi integrated. Let us know what you're trying to do and we'll take care of you.
Order by Noon CST for possible same day shipping*
*See Terms & Conditions
System Quote
Get Help with System Design/Installation

1-800-558-8957