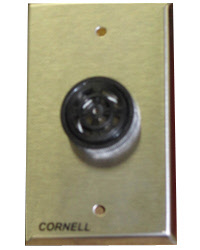 DS-113S Alarm, Single Status
Call for pricing
(1-800-558-8957)
CORNELL D-113S Alarm offers immediate annunciation of any call on the system.
Function
Continuous Alarm for Single Status Systems.
Call Indication
Continuous tone.
Terminations
2 screw lugs.
Finish
Satin stainless steel plate.
Mounting
Flush to fit standard outlet box with single gang plaster ring or surface to fit Wiremold box 5748 or equal.
Engineers Specifications
The duty station shall be CORNELL Model D-113S. Incoming emergency calls shall be indicated by a continuous tone. The station shall fit on a standard single gang plaster ring or Wiremold 5748 surface box or equal. Minimum depth shall be 1 ¾".
Read More
Get the system you need.
Audio and visual nurse call systems for assisted living facilities, nursing homes, hospitals and outpatient medical clinics.
Order by Noon CST for same day shipping.
Traditional lights, buttons and pull cords or smartphone/WiFi integrated. Let us know what you're trying to do and we'll take care of you.
System Quote Get Help with System Design/Installation

1-800-558-8957