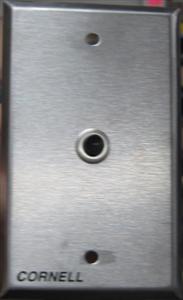 Push Button Switch, Momentary - 1 gang plate
$22.50
$19.13
/each
(Online Price)
Push Button Switch, Momentary - 1 gang plate
The C-913 emergency nurse call station is a dependable communication device for hospitals, assisted living centers, hospices and nursing homes. This nurse call system features a small button used by patients to alert caregivers during an emergency. Patients simply press the button from their bedside, and a corresponding corridor light flashes to alert nurses. Patients will feel secure knowing help is on the way with a quick press of a button.
Cornell Communications specializes in dependable, easy to use wireless nurse call systems for healthcare facilities worldwide. All of our emergency stations are constructed with a stainless-steel, single-gang faceplate with silk screened lettering. The C-913 emergency call station may be surface-mounted on a Wiremold 5748 with a 1 ¾" wall depth. It may also be flush mounted on a standard outlet box with single gang rings.
View all of our nurse call system replacement parts to improve communication capabilities within your hospital or clinic.
Read More
Get the system you need.
Audio and visual nurse call systems for assisted living facilities, nursing homes, hospitals and outpatient medical clinics.
Order by Noon CST for same day shipping.
Traditional lights, buttons and pull cords or smartphone/WiFi integrated. Let us know what you're trying to do and we'll take care of you.
System Quote Get Help with System Design/Installation

1-800-558-8957